Norfolk parents push for tribunal over shortage of special school places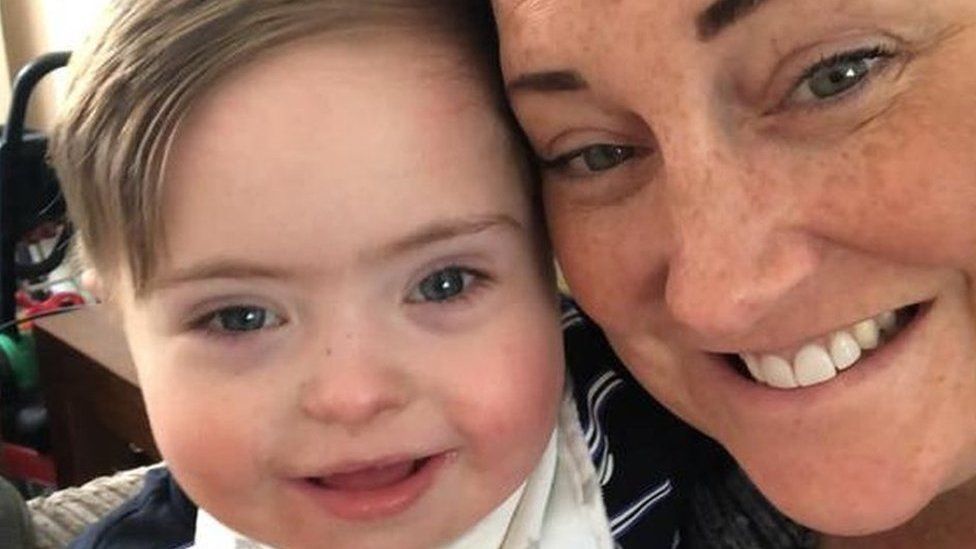 Families of children with special educational needs and disabilities (SEND) are challenging a council's decision to send their children to mainstream schools, because of a shortage of places at special schools. Three parents whose children are due to start school in September explain why they feel a regular school would not be right for them.
'Crisis for hundreds of children'
Vanessa Vasey from Bradwell near Great Yarmouth is seeking to reverse a decision by Norfolk County Council to place her son in mainstream education.
Her son, four-year-old Jesse, has Down's syndrome. He has difficulty with his vision and hearing, which also causes problems with his speech.
Ms Vasey said he needed the environment of a special school, where classes are smaller and staff regularly deal with complex needs.
"He's an amazing little boy, I'm absolutely blessed to be his mummy. He loves nothing more than to put a microphone in his hand and have a singalong to the telly," she said.
"He's not toilet trained, he's unable to regulate his emotions so he can get quite bad tempered - he throws things, he hits things."
Jesse can speak and sign a few words but is unable to express exactly what he means, his mother said.
He was also born with just one nasal passage which has to be kept clear and requires suctioning every few hours.
"Most of his levels are between eight months and 26 months," said Ms Vasey.
"I've been told by the special educational needs coordinator at the school that Jesse would be better placed in a complex needs school.
"I've been told by the local authority that he meets the criteria to go to that school, but he cannot go to that school because there isn't enough space.
"This is a crisis for my child and for hundreds of other children and their families and I don't know what the answers are but somebody needs to find them, and fast," said Ms Vasey.
In nearby Filby, Carly Bowler, mother of four-year-old Jamie, has launched a petition to get some 400 places for children with special educational needs and disabilities (SEND).
Her son is severely autistic and is still in nappies.
"He's very happy, loving, very sensory-orientated. He loves to be cuddled and kissed, tickled, but is very, very nervous," she said.
"He will smash his head against a hard surface if he's trying to get someone to understand what it is he needs or wants and they're not grasping it quick enough.
"With his autism he is hyper-sensitive to noises, and very nervous around other children.
"He doesn't say Mum. He doesn't say yes or no. So at the moment Jamie is eight to 20 months in all of his developmental areas."
She said the council had not kept up with demand for SEND school places and should have planned for demand.
"The spaces that they are creating are not enough to cover those children [already in education] let alone those children that are due to start this September," said Ms Bowler.
"I read horror stories of children not wanting to live, that are so frightened, are being bullied, are being singled out are made to feel they are difficult [at mainstream schools]," she said.
'New schools don't help us'
Hayley Dudzinski, who lives in Mulbarton, is the mother of four-year-old Zephyr who is non-verbal and has a range of limiting conditions.
He has difficulty walking and uses a mobility pushchair when outside.
"It's a bit of a guessing game as to what Zephyr needs," said Ms Dudzinski. "We are starting to introduce signs but at the moment Zephyr isn't responding too well to that."
Zephyr currently attends a special needs nursery and a local nursery where he receives one-to-one support.
Ms Dudzinski is also going through the tribunal process to appeal the local authority decision to send Zephyr to a mainstream school in September.
"The school offered is not suitable for his needs. Zephyr doesn't just need an adapted curriculum," she said.
"He needs things like sensory rooms, he needs access to hydrotherapy pools for his physio needs, specialist help with his speech and language."
An educational psychologist report has confirmed Zephyr requires specialist provision, said Ms Dudzinski.
"I blame the council. They're building schools but they've let it get to a point in Norfolk where it doesn't help parents like me," she said.
She is hoping that by going to tribunal the council will be forced to create a place for Zephyr at a special school.
"The other outcome is that they would offer Zephyr what they class as a bespoke package, which would be potentially where the local authority pays for him to attend nursery until a [special school] space becomes available," she added.
'£120m spent on new special schools'
Michael Bateman is in charge of Norfolk County Council's SEND provision and agreed more places are needed.
"The difficulty is current vacancies, which is why we're building so many new special schools and other specialist provision," said he said.
"So we don't disagree with the families and hope that at some point in the future we can make that specialist provision for them."
The authority has spent £120m building new special schools, but the earliest any children could attend would be Christmas.
"If we had those special school places right now, those boys would be going there. If we could expand overnight of course we would do that," said Mr Bateman.
"We have had a lot of experience of this over the years, but families, after that first half-term [at a mainstream school] are reassured. But of course, when going to special school, it's even better," he added.
Three new schools for children with SEND are being built in Norfolk - in Great Yarmouth, Fakenham and Easton - to provide up to 450 places over the next two years, and places at some existing schools will also be extended.