Covid-19: Paramedic dad 'determined' to carry on Finnbar's Force cancer charity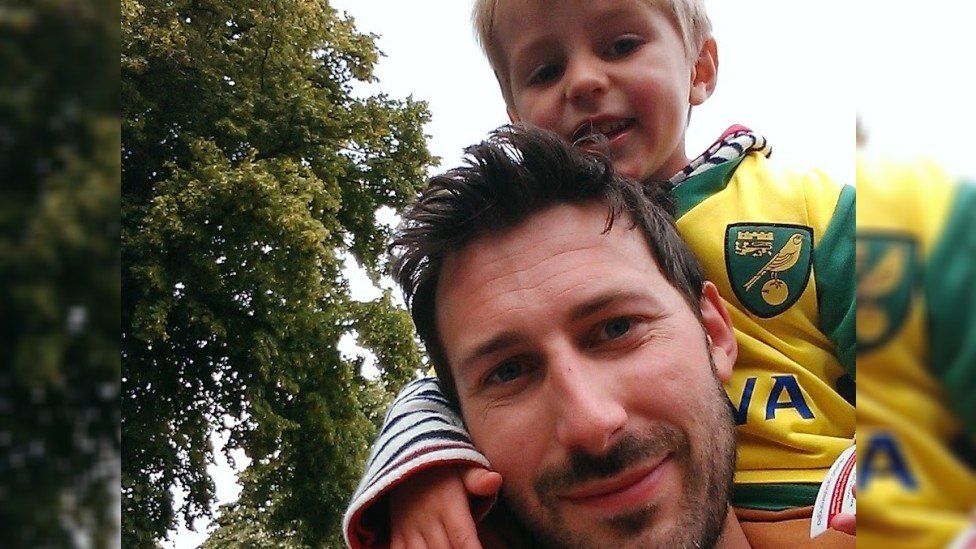 A paramedic who returned to the front line full-time after stepping back to run his son's cancer charity said he was "determined" it would carry on.
Tristan Cork and wife Claire, from Norfolk, set up Finnbar's Force in memory of their son, who died aged five while suffering from a brain tumour.
"As a charity we will survive this... but we have suffered," he said.
Mr Cork, 38, who has spent 20 years as a paramedic, has recently been put in charge of the resuscitation area at Norfolk and Norwich University Hospital's casualty unit.
He said while he would still lead the charity, he was now hoping to recruit volunteers to deal with day-to-day duties.
His family had felt there was a need to set up a charity to support carers and children after undergoing the rigours of son Finnbar's illness and treatment.
But Mr Cork, who lives in Hethersett with Claire, stepson Alfie, 17 and daughter Nell, eight, said the coronavirus crisis had meant Finnbar's Force had received just 25-30% of the money it normally would in a year.
"There's pure frustration and disappointment because 18 months ago we had a roadmap, but Covid has upended that," he said.
"That frustration is made worse by the fact that families need help more than ever.
"But I feel more determined than ever - it's really important that things come about because of Finnbar and we do them in his name."
Mr Cork said the small size of Finnbar's Force - which supports local families of children with cancer - meant it could respond quickly to requests during the crisis.
It gave £30,000 in emergency grants to 40 families and was now distributing computer tablets so children could access remote support.
"We've had feedback from families who said they wouldn't have got through things without that money," said Mr Cork.
Mr Cork said although he was compelled to return to the NHS full-time, he felt guilty the charity had lost out on his time.
"I feel a lot of pressure... that I wasn't getting everything done, like social media posts - that all adds up emotionally," he said.
However, despite the setbacks, Mr Cork said the charity was still on track to fulfil its ambition to employ a specialist liaison worker, who would communicate with medics on families' behalves.
"[It] would be the tribute to Finnbar we have been longing for," he said.
"Something which will be the legacy of the little boy who probably needed that person involved from the start.
"It would take us to the next level of being able to offer real support to families... something that will help them focus on the most important things: their child and the time they have together."
Related Internet Links
The BBC is not responsible for the content of external sites.