Norwich mum's Down's syndrome socks go global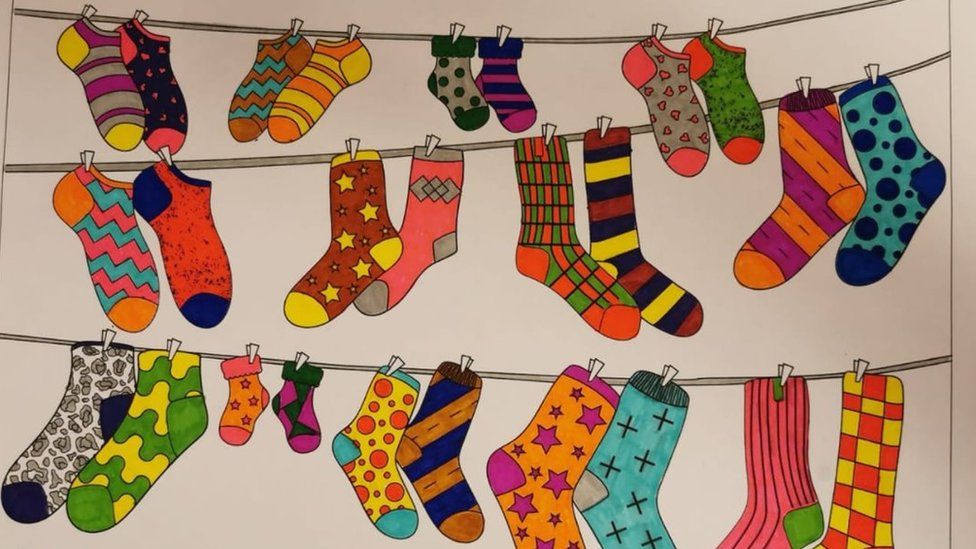 Posters of brightly coloured socks are being put up in windows across the globe for World Down Syndrome Day 2021.
The "Lots of Socks" art trail was the idea of Norwich mum Emma Taylor, whose son Eli, six, has the condition.
Socks have been used as a motif to raise awareness by World Down Syndrome Day International for years, as the chromosome that causes it is shaped like a sock.
Mrs Taylor said she was amazed when her idea was taken up by so many people.
The mother-of-two said the family and local Down's syndrome groups would usually celebrate on 21 March - but for the second year running, their planned activities had been cancelled.
"Instead, my artist friend Judith Palmer designed a poster with socks on it, for an art trail," Mrs Taylor said.
The poster showing mismatched pairs of socks hanging on washing lines can be downloaded from the Lots of Socks Trail Facebook page which she set up a month ago, coloured in and displayed in a window.
"Hundreds of people have printed the poster, from the USA, Canada, France, Italy and right across the UK," she said.
"I didn't want the day to go unnoticed - I want it to be a day of celebration," Mrs Taylor added.
"In Ontario, Canada, one woman said her whole neighbourhood is displaying the posters."
Mrs Taylor said she, Eli, and the rest of the family had been "amazed" by the reaction to the posters and thrilled they had been so well-received.
A spokeswoman for the Down's Syndrome Association said: "We are delighted that Emma's sock trail has been picked up and enjoyed across the globe.
"Socks have become a symbol of the day, because chromosomes look like socks, and people who have Down's syndrome have an extra copy of chromosome 21.
"People use the hashtag #LotsOfSocks on social media to show their support which is a really fun way of raising awareness of World Down Syndrome Day."
For every 700 to 1,000 babies born, one will have Down's syndrome, meaning they have an extra chromosome and a learning disability
About 40,000 people in the UK have the condition
Around half have heart defects but only 10-15% require medical intervention
80% of children with the condition are born to women younger than 35
In the 1960s, life expectancy was 15 - it is now between 50 and 60
Source: NHS/Positive About Down Syndrome
Anna Sands from Down Syndrome International, which runs the annual awareness-raising day, said: "Emma's 'Lots of Socks Trail' idea has really captured the imaginations of people who want to... bring about positive change for people with Down's syndrome, both here in the UK and around the world."
Related Internet Links
The BBC is not responsible for the content of external sites.