Charlie Hughes: Parents of boy with epilepsy drop NICE high court challenge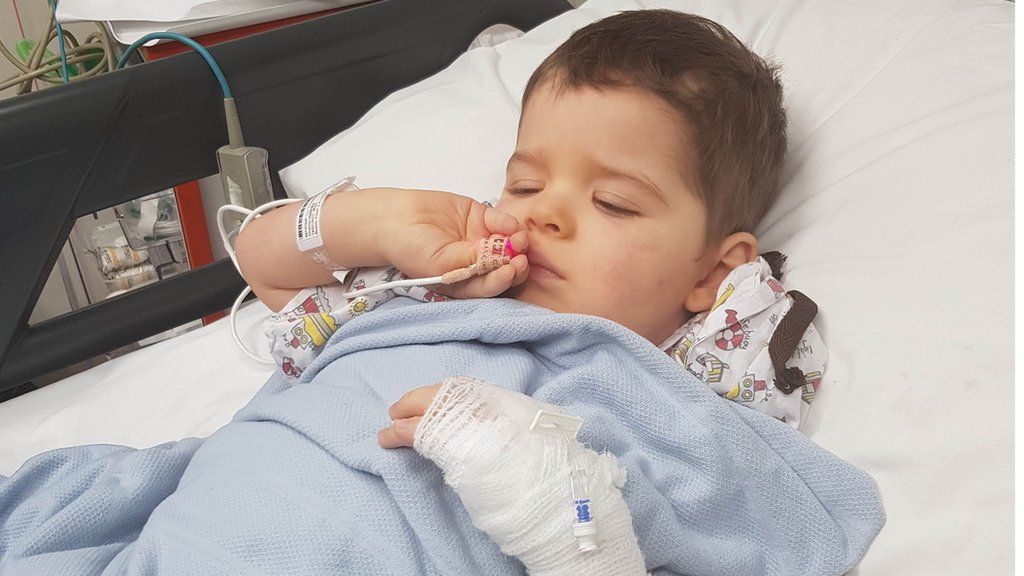 The parents of a three-year-old boy with severe epilepsy have dropped a legal challenge after guidelines on prescribing cannabis were 'clarified'.
Charlie Hughes went from having up to 120 seizures a day to fewer than 20, after receiving cannabis oil privately.
Medical cannabis was legalised in 2018, but few NHS prescriptions have been handed out due to NHS guidance.
A clarification to the guidance means specialist clinicians can prescribe medicinal cannabis where appropriate.
When the National Institute for Health and Care Excellence (NICE) produced guidance for the NHS in 2019, it said there was not enough evidence to recommend cannabis-based medicines for severe, treatment-resistant epilepsy.
Charlie's parents, Matt and Ali Hughes, began a legal challenge which was due to go to the high court later this year. NICE has since moved to issue further guidance.
Charlie, from Norwich, has a rare form of treatment-resistant epilepsy called West syndrome which has left him with developmental delay.
He was given six different anti-epileptic drugs but his family said they saw no improvement in his condition.
However, they said that after starting a private prescription for cannabis oil - costing between £1,000 and £3,000 a month - his seizures reduced and his development started to speed up.
The clarification from NICE states: "The fact that NICE made no such population-wide recommendation should not… be interpreted by healthcare professionals as meaning that they are prevented from considering the use of unlicensed cannabis-based medicinal products where that is clinically appropriate in an individual case.
"There is no recommendation against the use of cannabis based medical products."
Dr Paul Chrisp, director of the Centre for Guidelines at NICE, said: "NICE has published a clarification to our 2019 guideline on cannabis-based medicinal products relating to the treatment of severe-treatment resistant epilepsy in children.
"This clarification does not represent a change in our guideline, but both the clarification and the guideline should be taken into account by specialists when making a clinical judgement on prescribing medical cannabis.
"We hope this will make it clearer to specialists, and to children's parents and guardians, when it might be appropriate to prescribe cannabis medicines to individual patients."
Mr and Mrs Hughes said: "We hope this will give paediatric doctors more confidence in prescribing on the NHS, on an individual basis for patients like Charlie who have shown amazing results on medicinal cannabis.
In January, it was announced that medical cannabis imports from the Netherlands - which would have stopped after Brexit - were given a six-month reprieve.
What is medical cannabis?
Medical cannabis is a broad term used by doctors to describe treatments - such as oral tablets, oils and sprays - that have some similar ingredients to recreational cannabis.
These products are made by pharmaceutical companies under the same strict controls as other medications. That means you have to get them on prescription
Some cannabis-based medicines - such as Epidyolex for epilepsy - have been approved for use by the NHS
Other products that might claim to be medical cannabis, such as "CBD oil" or hemp oil, are available to buy legally as food supplements from health stores
There is no guarantee these are of good quality or provide any health benefits and doctors should be consulted before any new medication is taken
Related Internet Links
The BBC is not responsible for the content of external sites.