Brexit: Businesses find 'teething problems' trading with the EU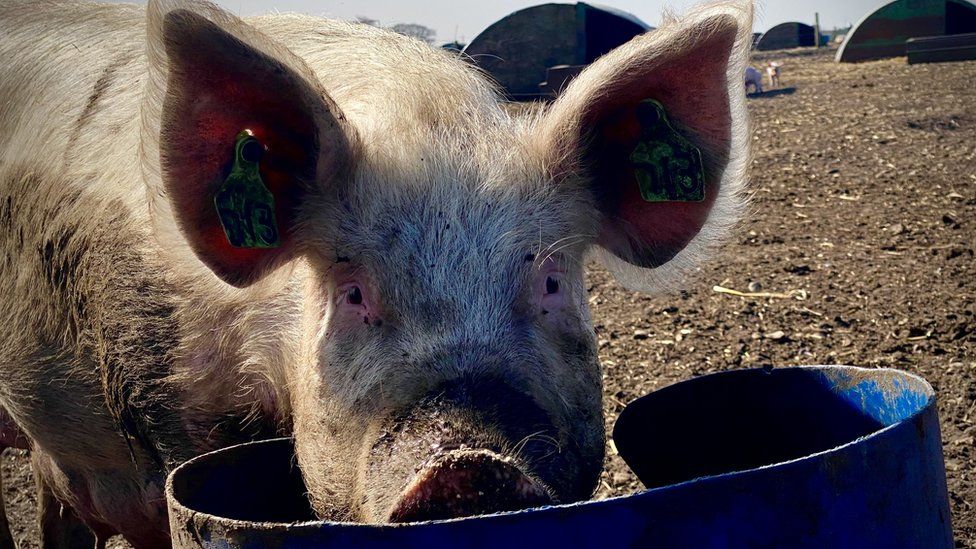 Three months on from the UK's departure from the EU and its single market, businesses are getting to grips with new rules and regulations. The BBC has spoken to three companies about their experience since 31 December and how they have adapted.
'We found a lot of obstruction'
Captain Fawcett Ltd is based in King's Lynn, Norfolk, and the majority of its male grooming products are exported, with 51% going into Europe.
Director Richard Finney says the last three months have been "particularly difficult" in terms of getting products to their destination.
"We are quite used to shipping paperwork as we do that for other countries," he says.
"But we found a lot of obstruction.
"Where a parcel normally takes two days, it's been taking up to two months to arrive in some instances."
Mr Finney says he has parcels that are still "stuck" in Spain, Poland and Germany.
"Our paperwork is correct, but we are finding different countries are making their own individual requirements," he says.
"You can send off a parcel and have no idea if or when it will get there."
Mr Finney says he hopes the issues are just "teething problems" as staff are "working round the clock" to ensure things run as smoothly as possible.
'We're hoping for a brighter future'
Suffolk pig farmer Alastair Butler says "things are starting to move again" after a tricky to start to the year due to paperwork problems.
"The marketplace seemed to close for about a month to six weeks," he says.
This led to livestock not being moved off the farm, in Southwold, which Mr Butler hopes will not happen again.
"We had a build-up of pigs," he says.
"Luckily as an outdoor pig producer we have a little bit more space so we could handle that, but if it carried on it could have caused some serious animal welfare situations."
The farmer says while the situation has improved, there are "still a few kinks to iron out with the system".
He says he would ideally like to see more people buying British pork to help farmers who have had to "soak up some of the costs" of a slow start to the year.
"It's been difficult for pig farmers, but things are starting to improve and we're hoping for a brighter future," he says.
New rules have come into force for those in the UK either importing or exporting with European Union countries.
Exactly what licences are needed or what duties must be paid depends on what is being exported, its value, where the product originates from and to which country it is being sent, according to government guidance.
From 1 January, the UK government introduced a rule that VAT must be collected at the point of sale rather than the point of import.
This essentially means that overseas retailers sending goods to the UK are expected to register for UK VAT and account for it to HMRC if the sale value is less than €150 (£135).
'Things haven't run smoothly'
For Steven Williamson, director of Lynn Shellfish in King's Lynn, things are "definitely getting easier".
He says the company's first load of produce was delayed for five days, but exports are now getting to their destination within 24 hours.
"We are getting our heads around it," he says.
"The EU are not taking live product, so we will have to cook all of our cockles as part of a purification process."
Mr Williamson says the business can "handle" the change, but he feels it is "more of a pain for European customers" who wants live products.
"It's a strange situation," he says.
"The hassle we've had to deal with is the hassle I expected with no deal.
"If you've done a deal things should run smoothly and it hasn't."
Despite the hurdles of leaving the EU, Mr Williamson believes the UK will be better off in the long run.
Analysis by Andrew Sinclair, BBC East political correspondent
Everyone seems to be agreed that things have calmed down. Firms are getting their heads around the paperwork, customs officers on the continent are accepting it.
There are still delays and a few shortages, but it's not as bad as at the start of the year.
It has come at a price. Companies complain that Brexit has produced a lot more red tape which the Norfolk Chamber of Commerce says has pushed up the cost of exporting by 35%.
There is still a sense of nervousness that things could get difficult again at any time - disputes over vaccine supply, sale of fresh shellfish and Northern Ireland border issues could easily flare up into a full blown trade war.
For companies in the region, Brexit has become yet another challenge to deal with in 2021.