Sandringham: Norfolk knitter recreates Queen's estate in wool
By Charlotte Ball
BBC News, Norfolk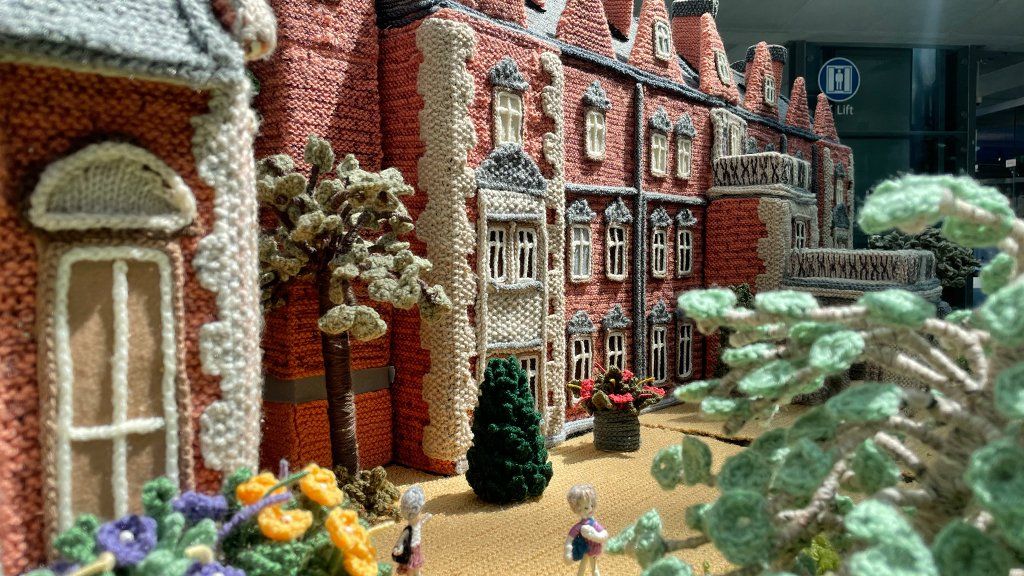 An homage to one of the Queen's estates has been recreated in wool by a dedicated 92-year-old knitter.
Margaret Seaman, from Great Yarmouth, spent two years crafting her version of Sandringham House and other buildings.
She said it was "impossible to tell" how much wool was in the piece but she worked on it "on average about 10 to 12 hours a day".
The finished item is 18ft (5.5m) by 6ft (1.8m) and features in the Norfolk Makers' Festival at The Forum, Norwich.
"After I lost my husband I joined a knitting group, and it all snowballed from there," Ms Seaman said.
"And then I just thought, if I can think of something to do that we can show to people, and raise money for a charity, it would be something worthwhile doing. That's how it all started."
The exhibition piece is raising money for three Norfolk hospitals and can be viewed until 11 June.
Sandringham House was built in 1870 by The Prince and Princess of Wales
It has been the private home for four generations of British monarchs
It is currently used as a retreat for the Queen and the royal family
Sandringham Royal Park spans almost 243 hectares
What is now the lawn to the west of the house was ploughed and farmed during World War Two as part of the Dig For Victory campaign
Related Internet Links
The BBC is not responsible for the content of external sites.