Roman treasure returns to Norfolk town where it was found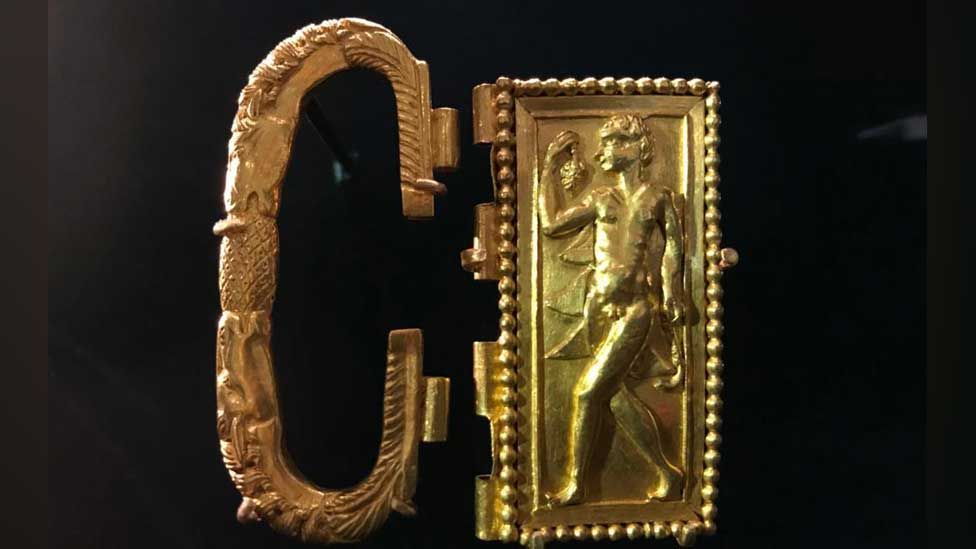 Pieces of Roman treasure discovered by metal detectorists 42 years ago have gone on display "a short walk" from where they were found.
The discovery at Thetford in Norfolk included 44 pieces of jewellery and 33 silver spoons from the 4th Century.
Ancient House Museum curator Oliver Bone chose "11 of the best and most interesting" items for the exhibition, which will run for a year.
They include a "gaudy, blingy" ring and a gold belt buckle with a satyr design.
The find in November 1979 was considered controversial because metal detectorists Arthur and Greta Brooks broke the law by not reporting it to the authorities, which also meant a full archaeological survey of the site could not be done.
Eventually the story leaked out and the hoard was declared treasure and given to the British Museum.
"They were a surprise to archaeologists as it's dated to AD390, at a time when Britain was officially Christian," he said.
"It was possibly buried as an offering to the gods - as there are other examples of buried hoards nearby from this time, such as the iron work found at Kilverstone.
"The illegal nature of the pagan cult could be a reason for the burial."
Other items included in the British Museum loan are exquisitely etched silver spoons.
Mr Bone said displaying the hoard "a short walk from where it was found... makes the past tangible".
He added metal detectorists should report all finds to the Norfolk finds liaison officer as "whether modest or spectacular like the Thetford treasure", they "give great insight to the story of the country".
Related Internet Links
The BBC is not responsible for the content of external sites.