Sutton Hoo-era Norfolk sword pyramid find 'lost by lord'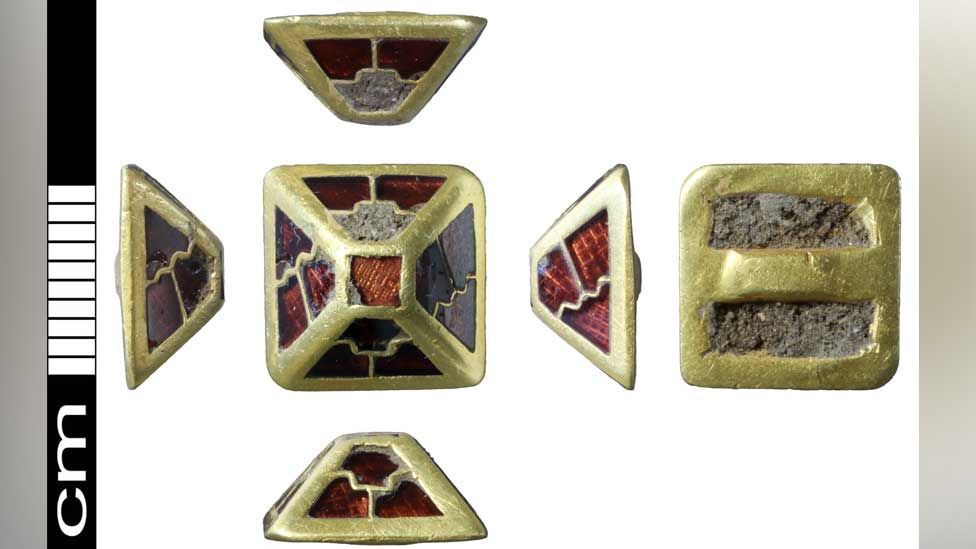 A gold and garnet sword pyramid lost by a Sutton Hoo-era lord "careening around the countryside" on his horse has been discovered by a metal detectorist.
The Anglo-Saxon object was found in the Breckland area of Norfolk in April.
Sword pyramids come in pairs so its loss "was like losing one earring - very annoying", she said.
The tiny 12mm by 11.9mm (0.4in by 0.4in) mount dates to about AD560 to 630, at a time when Norfolk was part of the Kingdom of East Anglia.
Dr Geake said: "It would have been owned by somebody in the entourage of a great lord or Anglo-Saxon king, and he would have been a lord or thegn [a medieval nobleman] who might have found his way into the history books.
"They or their lord had access to gold and garnets and to high craftsmanship."
The mounts were part of the system that bound a sword to its scabbard.
"It's believed they made it a bit more of an effort to get the sword out of the scabbard, possibly acting as a check on an angry reaction," Dr Geake said.
They are less commonly found in graves, but are "increasingly common" as stray finds, probably as accidental losses.
Dr Geake said: "Lords would have been careening about the countryside on their horses and they'd lose them."
Related Internet Links
The BBC is not responsible for the content of external sites.