New 'Banksy' artwork appears at Great Yarmouth model village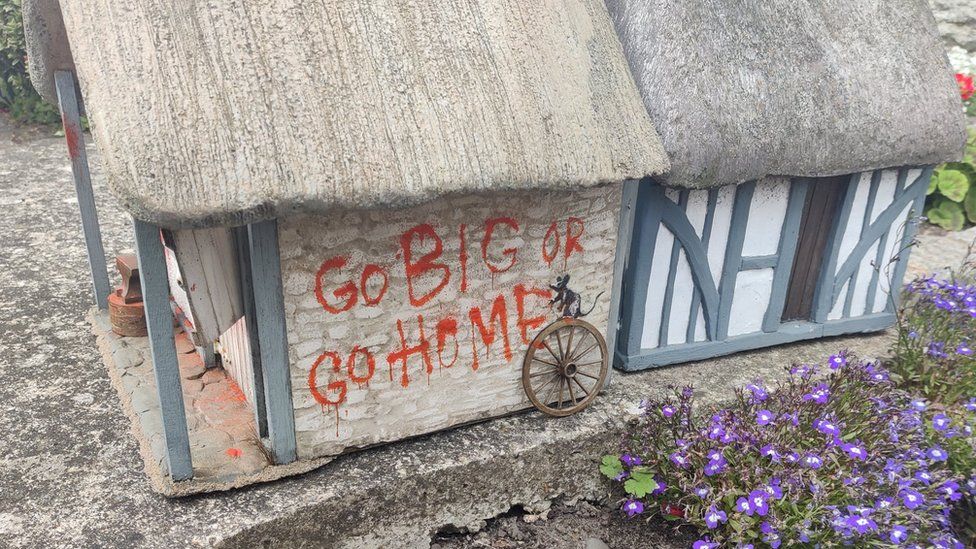 Another piece of street art possibly created by secretive graffiti artist Banksy has appeared in East Anglia.
A new model of a miniature stable, which appears to have been signed by the artist, was found at Merrivale Model Village in Great Yarmouth, Norfolk, on Sunday morning.
None has yet been authenticated.
First spotted by a visitor, the new work is a model of a thatched stable depicting a small rodent that appears to be standing on a wooden wheel placed by the building. It is captioned "Go big or go home".
A post on the attraction's Facebook page said "a model we had never seen before was sitting amongst our little cottages" and "looked as though vandals had been decorating it".
"Upon closer inspection it was adorned with a familiar name to the street art scene....," the post said.
Owner Frank Newsome told the BBC: "It's not one of our cottages. Someone has brought it in.
"I'm a layman but we've Googled it and it does look genuine so we're now trying to ascertain via the Banksy website whether it is or it isn't."
He said the stable would be kept on display for visitors to the model village, but removed and stored safely elsewhere at night.
It would not be the first time Banksy has added his own work to an existing attraction.
'East Anglian staycation'
Another artwork spotted in Great Yarmouth depicts people dancing on a bus shelter while an amusement arcade-style toy-grabbing crane appeared in Gorleston.
Part of a piece in Nicholas Everitt Park, Oulton Broad, near Lowestoft, was removed on Sunday over flooding fears. It depicted three children, who appeared to be standing in a small boat placed under the painting.
Another artwork was spotted on a wall outside the former Lowestoft Electrical shop on London Road North, which appears to show a child next to a sandcastle.
A large painting of a seagull appearing to scavenge from a skip has also appeared in Lowestoft, along with a picture of a rat reclining in a deckchair, drinking a cocktail.
The appearance of the artwork comes after Great Yarmouth, Gorleston and Lowestoft submitted a joint bid to become the next UK City of Culture in 2025.
Further along the coast in Cromer, another mural depicts a group of hermit crabs near some empty shells. One of the creatures, who has already secured a shell, holds a sign saying: "Luxury rentals only".
The BBC has attempted to contact representatives of Banksy, whose recent work includes a hula-hooping girl and an escaping prisoner.
He typically claims responsibility for pieces of street art via posts on his Instagram account and website.
Banksy expert Prof Paul Gough, principal and vice chancellor of Arts University Bournemouth, said he was "pretty sure" the works were by Banksy or "very good fakes" and that the artist "has clearly been enjoying an East Anglian staycation".
Related Internet Links
The BBC is not responsible for the content of external sites.