Banksy: A guide to his 'Great British Spraycation'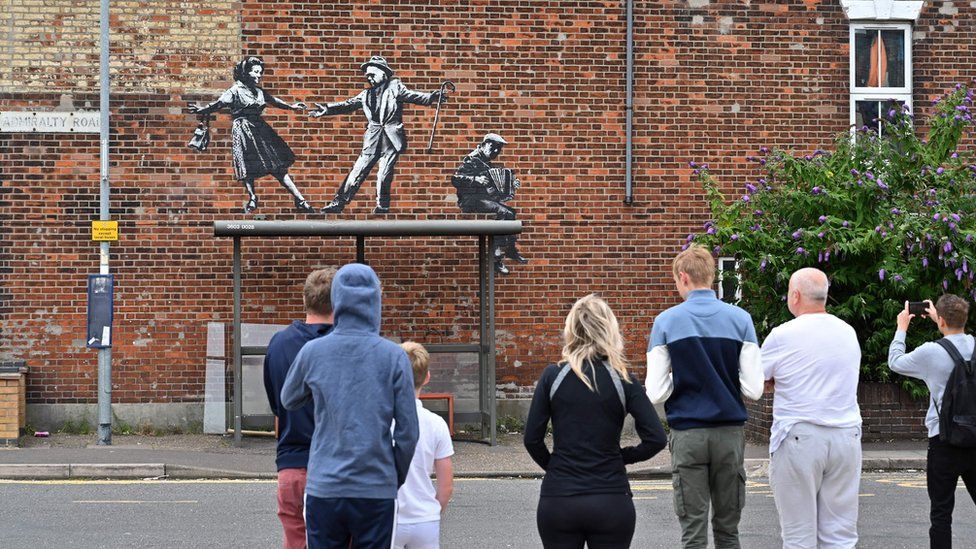 After a week of speculation, the artist Banksy has finally claimed responsibility for pieces of street art that have appeared on the east coast of England, releasing a video on his Instagram page entitled "A Great British Spraycation". BBC News looks at where the pieces are, what their significance could be and what might happen to them.
Where is it? Nicholas Everitt Park, Oulton Broad, Suffolk.
What does it show? Three children near a boat structure next to the tagline "We're all in the same boat".
What is happening to it? Oulton Broad Parish Council removed the metal "boat" over flooding fears as it was blocking a drain and rain was forecast. But a spokeswoman promised it would be put back.
What is an expert's view? Prof Paul Gough, principal and vice chancellor of Arts University Bournemouth, said: "The team will have been scouting possible venues across East Anglian coast for some time: nothing is left to chance with Banksy's public artwork.
"Unlike your average tag, his stencils are pre-planned, prepared and perfectly positioned.
"Banksy is also adept at recycling stuff left lying around - a bicycle tyre, a pile of sand - or here at Oulton Broad, a corrugated metal sheet that doubles as a boat to convey a powerful environmental warning, as the children bail out the sinking ship."
Where is it? In Katwijk Way, Lowestoft, Suffolk, on the side of a house in Denmark Road.
What does it show? A gull on the side of a property appearing to try to eat "chips" - made from pieces of insulation material - from a skip.
What is happening to it? The artwork is one of three in the town, and East Suffolk Council said it was protecting all of them, along with the boat mural in nearby Oulton Broad.
"Due to its large size, work to cover the seagull on Denmark Road is still under way. Security will remain in place at this site until the work is completed," it said.
What is an expert's view? Prof Gough said that gulls had "made fleeting appearances" in Banksy's previous seaside locations.
"Here a vast seagull, painted on a gable wall in a more elaborate manner than one often sees in his work, hovers over a skip filled with huge carved chips - a reference to the incorrigible bin-picking tendencies of the ferocious urban gulls that can terrorise our resorts."
Lowestoft already features several large murals of birds, including a barn owl and kingfisher, created by artist ATM as part of a wildlife art trail.
Where is it? London Road North, Lowestoft.
What does it show? A child with a crowbar next to a sandcastle and a lifted paving slab.
What is happening to it? The former Lowestoft Electrical shop had been up for sale, but estate agent Danny Steel says the owner has now taken it off the market as he considers his options.
East Suffolk Council has now installed a protective screen. made from UV-stabilised polycarbonate, over the work. to protect it and and help prevent fading.
What is an expert's view? Prof Gough said that across East Anglia, Banksy had "combined playfulness and light relief with something a little menacing".
"Particularly here in Lowestoft as a child builds a sandcastle, not with bucket and spade, but with a crowbar," he said.
He believes the artist is referencing the student uprising in Paris in 1968, which had the slogan "sous les pavés, la plage!", which means "beneath the pavement, the beach", and questions whether the "crowbar is a reference to a world of eviction and squatting".
Where is it? The bottom of Links Hill, North Beach, Lowestoft.
What does it show? A rat leaning back in a deckchair drinking a cocktail.
What is happening to it? As with the other Lowestoft pieces, the council was considering protecting the work, but on Saturday the mural had been defaced with white paint.
East Suffolk Council said security officers on patrol in the area found someone trying to cover up the artwork. It said it had now been covered to prevent further damage.
"This will allow us time to work with specialists who may be able to restore this piece for residents and visitors to enjoy once again," it added.
What is an expert's view? Prof Gough said rats had been the artist's "rodent of choice for decades: irreverent, playful characters that have popped up during his Covid-inspired period".
"Here in Lowestoft a rat enjoys a cocktail on the seawall, a few inches below a drain that drips waste water.
"Banksy and his team will have scouted these locations very carefully, leaving nothing to chance, and always fastidious when selecting a site. It's what makes him and his work so very powerful."
Where is it? Admiralty Road, Great Yarmouth, Norfolk.
What does it show? Three people on top of a bus shelter: two dancing and another playing an accordion.
What is happening to it? The piece is one of two accessible to the public in the Great Yarmouth Borough Council area. A security guard has been visible at the site since Banksy claimed the work and barriers have been placed around the bus stop. A Perspex cover has now been put over the piece.
The council thanked Bansky for "all the wonderful art work" and said it was continuing "to celebrate his gifts to the town".
It added: "We are asking visitors to come and enjoy this fabulous art work but please be respectful to local residents. A leaflet drop in that area to inform local residents of the council's actions is planned in the next few days."
What is an expert's view? "Banksy has taken the roof of a bus shelter as the floor of a dance hall, and painted several very fine figures," said Prof Gough.
"Working at life-size scale, we are looking at a painter in his prime. Very few street artists can use stencils as expertly as this; and certainly no-one capable of doing so at speed from a very exposed perch."
Where is it? The seafront at Gorleston, Norfolk.
What does it show? An arcade-style grabber crane above a bench.
What is happening to it? Since the work first appeared, six teddy bears have been stencilled beneath it, along with the words "Banksy Collaboration Emo" and the work has since been defaced. Since the work was confirmed as a Banksy, Great Yarmouth Borough Council has been protecting it, installing a Perspex cover and hiring security guards.
What is an expert's view? "Banksy has a love-hate relationship with the seaside, especially its amusement arcades," said Prof Gough.
"What he's done at Gorleston is to use a powerful silhouette at scale to intimidate anyone on the bench, but also to pay homage to one of the most memorial emblems of the arcade."
Where is it? Merrivale Model Village, Great Yarmouth.
What does it show? Graffiti on a miniature stable, with Banksy's name and a tagline: "Go big or go home". A rat can be seen standing on a cartwheel propped against the wall.
What is happening to it? The model village said a model it "had never seen before" was sitting amongst its little cottages. It has now been placed in a protective box and is put on display at certain times during the day, under the watch of staff.
A model of a girl, who appears to be so shocked by the state of the stable that she's dropped a basket of apples, was taken into safety by the model village staff. The figure is deemed to be fragile and has needed some repairs.
What is an expert's view? "Banksy has a crew of animators, model-makers and fabricators he can recruit to create the most exquisite miniatures and models," said Prof Gough.
"The thatched cottage at Merrivale village is a fine example, with an additional outsize signature tag, and a message 'Go big or go home' that plays on the idea of scale and houses - but is also about ambition: Banksy rarely does things by halves."
Where is it? On a sea wall in Cromer, Norfolk.
What does it show? A group of hermit crabs with one in a shell holding a sign stating: "Luxury rentals only." Cromer is famous for its crabs.
What is happening to it? Prior to official confirmation being received, North Norfolk District Council said it was minded to let tourists and visitors enjoy the piece "until nature takes its course and the sea removes it."
What is an expert's view? "This is a quite brilliant painting, which combines humour with a very serious message that refers to homelessness, refugees and the rental market," said Prof Gough.
"It's also a brilliant play on the idea of the hermit, a loner denied access to secure accommodation.
"Only Banksy could bring these images and messages together. He's certainly bombed the East Anglian coast, a true staycation, or, more exactly, a 'spraycation'."
Where is it? Gorleston model yacht pond
What does it show? Two children are flung into the air, clinging on to an inflatable dinghy being pumped up by an adult who is distracted by their drink.
She was fatally injured when an inflatable trampoline burst on Gorleston beach.
The image has since been removed from Banksy's website.
The council said it was speaking to conservationists about whether the mural could be recovered and restored, but did not want it to remain in the same location.
Where is it? Guanock Place, King's Lynn.
What does it show? A statue of Frederick Savage, steam engineer and the mayor of King's Lynn between 1889 and 1890, has been standing for more than 100 years.
In Banksy's video, it shows how the artist added a tongue and what appears to be an ice cream made from part of a cone and some expanding foam filler.
What is happening to it? The Lynn News reports that the additions were spotted on 4 August, but taken down due to complaints. King's Lynn and West Norfolk Council still has the cone but does not know what happened to the tongue.
The council is considering how it might display the work and make it part of any Banksy trail, but said it was Aceunlikely to go back on the statue as its location made it a dangerous place for people to stop and take photographs.
Banksy and statues: It's not the first time Banksy has worked with sculptures. Previous stunts include him making Winston Churchill resemble a punk by adding a strip of turf to his head, and in 2004 he placed his version of Rodin's The Thinker (titled The Drinker and portraying a regretful figure with a traffic cone on his head) in central London.
In 2009 Banksy displayed several of his takes on Renaissance sculptures at a secretly organised show at Bristol Museum, with the subjects seen carrying shopping bags or wearing a suicide vest. A sculpture of an angel with a paint pot on its head remains on display.
Related Internet Links
The BBC is not responsible for the content of external sites.