Great Yarmouth council removes Banksy mural over trampoline death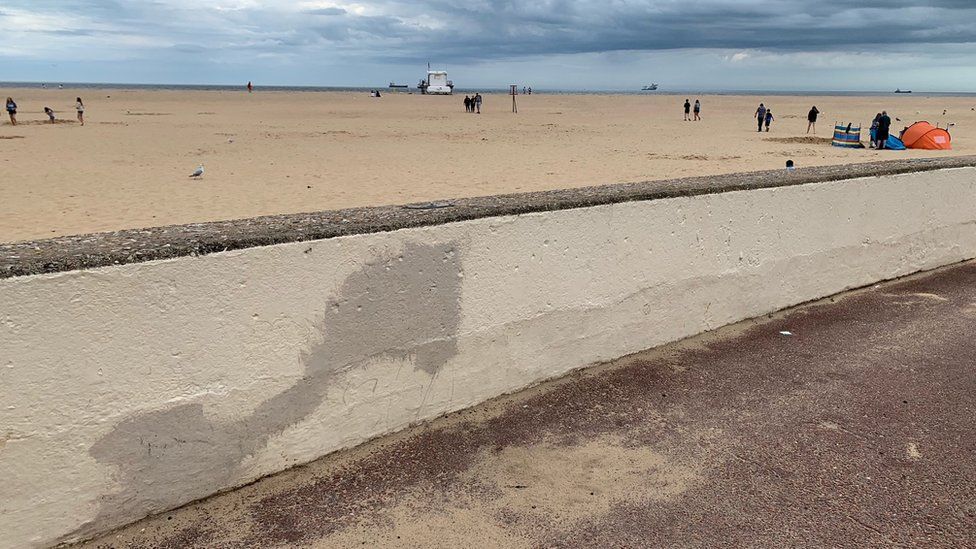 A council has removed a Banksy mural of two children on an inflatable dinghy being flung in the air amid "sensitivity" to a girl's death nearby.
She died when the inflatable trampoline she was on burst on Gorleston beach, Norfolk, in 2018.
Banksy's artwork appeared this month on a wall close to where it happened and was later "covered over".
The local authority said the move was "the right decision, respecting local people and feelings".
Great Yarmouth Borough Council added it was "confident" that despite it covering up the image, "the work can be restored" and later "placed in a more suitable, alternative location".
A statement continued: "We thank Banksy for all the wonderful art work and fully appreciate these circumstances would not have been known by the artist."
Three-year-old Ava-May Littleboy, from Lower Somersham in Suffolk, died of a head injury after being thrown from the inflatable.
The council said: "In light of the tragic fatality of a child in 2018 which involved an inflatable not far from the yacht pond at Gorleston, the illustration at that location has been removed.
"Council operatives, acting in good faith, and aware of the local sensitivities, arranged for it to be covered over as part of their normal inspection and maintenance regime of the yacht pond."
The mural was one of 10 artworks left by Banksy in Norfolk and Suffolk during his so-called Great British Spraycation, with the first appearing on Friday 6 August and others discovered in subsequent days.
In Great Yarmouth a mural appeared depicting a couple dancing atop a bus shelter, accompanied by a man playing an accordion.
The council said it had "installed barriers" at the bus stop on Admiralty Road and "arranged protection" of all Banksy artworks in public areas in the borough.
"We are asking visitors to come and enjoy this fabulous art work but please be respectful to local residents," the authority added.
Related Internet Links
The BBC is not responsible for the content of external sites.