Banksy: Great Yarmouth model could be replaced by replica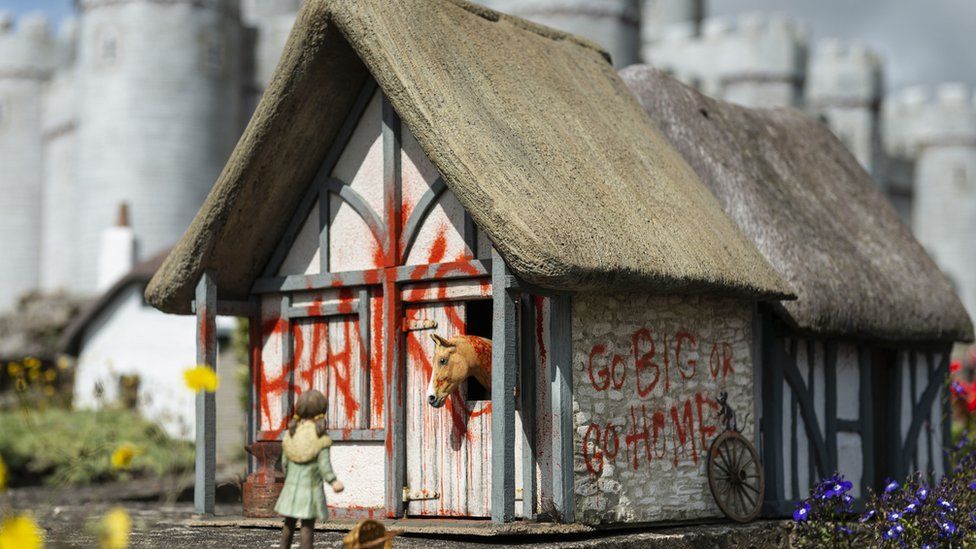 A Banksy artwork left at a tourist attraction could be replaced by a replica due to concerns about theft.
The miniature stable appeared at Merrivale Model Village in Great Yarmouth, Norfolk, on 6 August.
The owners said although they wanted to keep it on show, they had to remove it overnight for security reasons and were considering putting the original in a museum and installing a replica.
Frank Newsome, who owns the Yarmouth attraction, said he was in a state of shock after the famed artist confirmed the model stable was one of the artworks he had created during his so-called "Great British Spraycation".
Since the news broke, it had been "a bit manic", Mr Newsome said, but the park had enjoyed a "50% increase in footfall - which is brilliant".
Mr Newsome said Banksy's team had requested it be placed on show for the public, which he wished to honour.
However, keeping it secure has become a big issue for the Newsome family and having a replica made would give them "peace of mind", he said.
Asked whether people would come to see a replica, he said: "We've got a balancing act to perform.
"Either we might be forced to take it off-site because of the cost of security and having it transported to and from a safe location nightly, whereas a replica - that could be there forever.
"Some people will be disappointed that it's not the Banksy, but it's as close as you're going to get to a Banksy."
The idea of selling the original work was not something they were considering "right now", he said.
"We want to leave it out for as long as we can - do what Banksy wanted - people to see it.
"We are looking at a few alternatives - one of those is possibly site it in a museum where it can be on public show, but we've got to think long and hard and make the correct decision both for ourselves and the model."
Banksy expert Prof Paul Gough, principal and vice chancellor of Arts University Bournemouth, has offered to create a replica of the shack for the model village.
"We have one of the best model-making courses in the country, and if we have all the dimensions, it could be recreated," he said.
"There will be pressure to put the piece on the market - and some pieces hit astronomical prices.
"Banksy's people have been in touch with Mr Newsome, he tells me, and they'd like it kept for the public to see for as long as possible."
The Newsome family, he said, "had been given a gift".
"But it's a gift with conditions, really," he added.
Related Internet Links
The BBC is not responsible for the content of external sites.