Northern Lights: Photographers in the East capture light show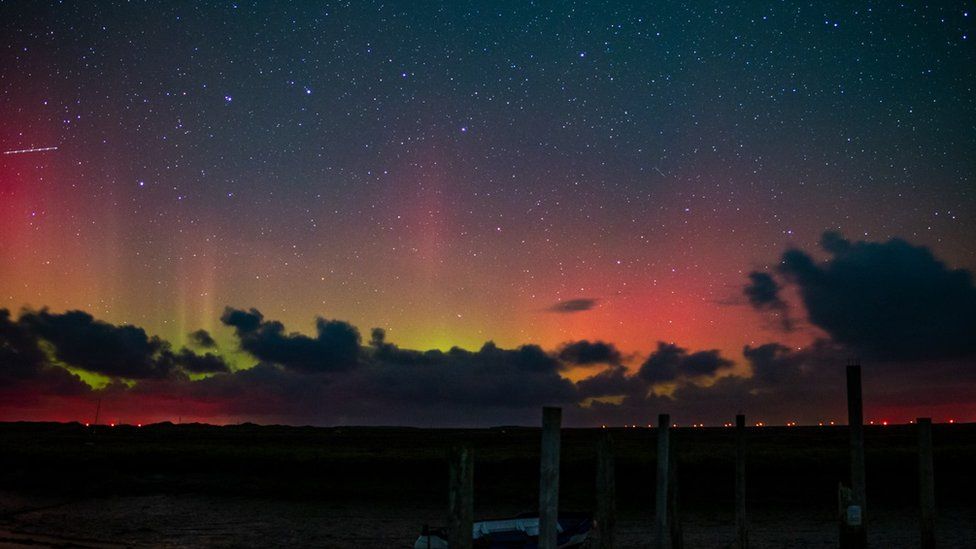 An "Aurora hunter" has described how capturing the Northern Lights left him feeling "exhilarated".
Steve Lansdell travelled from his home in Long Stratton, Norfolk to the coast at Morston to capture the phenomenon.
The Northern Lights - or Aurora Borealis - are rarely seen in the East of England, but were also spotted over Bedfordshire on Wednesday.
Enthusiasts also recorded the colourful sight over Yorkshire and Northumberland at the weekend.
The Aurora Borealis is caused when atoms in the Earth's upper atmosphere interact with charged particles from the sun, creating a dancing display of colour and light.
Mr Lansdell said the sight was prompted by a type of solar flare known as a coronal mass ejection (CME), which can result in the appearance of the Northern Lights at lower latitudes.
"As an Aurora hunter watching regularly what the sun throws at our planet, I knew there was a incoming CME, which we didn't expect for another 24 hours," he said.
"But it arrived early and a 55 minute drive to Morston quay netted this image."
He said watching the light show left him "exhilarated".
Roger Skillin captured his image about 117 miles (188km) away in Cranfield, Bedfordshire, at about 21:45 GMT on Wednesday, after he was alerted on social media.
"I drove outside the village away from the lights and set my camera up to start taking long exposure photos as I wouldn't have seen this with the naked eye," he said.
"I was just lucky, as about 15 minutes after setting up, the first CME hit, and that's when I picked up the reds on my camera.
"I've seen them a number of times in Iceland and Scotland, but I never thought I'd see them this far south."
Brad Damms, took his image at about 22:00 on the north Norfolk coast, close to the village of Blakeney.
It was the first time he has captured it and said he was "surprised by the colours" and it was "amazing to see".