Norwich doctor jailed for secretly filming colleagues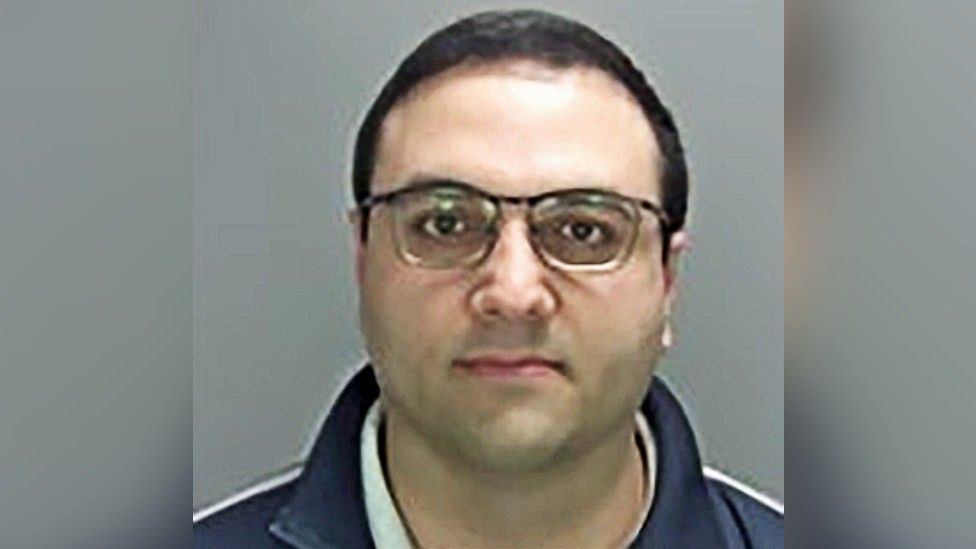 A doctor who secretly recorded his housemates, colleagues and the mother of a child patient has been jailed for two years and eight months.
Vinesh Godhania used a pin-hole camera to spy on females at his home having sex, taking showers and using the bathroom, St Albans Crown Court heard.
The 33-year-old also accessed victims' iCloud accounts and downloaded naked photos, sexual acts and intimate chats.
He pleaded guilty to seven charges of voyeurism.
Godhania, from Norwich, also admitted eight charges of unauthorised access to computer material.
He hid the tiny camera in an electronic toothbrush to covertly film female housemates and visitors at an address in Essex.
The court heard cyber crime officers were alerted to Godhania as he had been paying fees to a data breach search engine.
On 25 November his home was raided and police seized a tower, computer and USB sticks.
The doctor had been "storing data on hundreds of different women", the prosecution said.
He covertly filmed doctors, nurses and the mother of a child patient at Basildon Hospital and a colleague at Scunthorpe, the court heard.
Prosecutor Michael Roques said: "There were sexually explicit photos and videos along with email and social media account details and passwords."
The court heard the offences took place between 2012 and 2020, when Godhania was a medical student and then a fully qualified doctor.
The prosecution said he had compiled profiles of 2,000 potential targets.
One victim said: "He has had an enormous impact on my life. His wife is one of my best friends."
The mother of the child Godhania was treating said: "I am relieved my children were not the focus.
"The incident will stay with me for a long time."
Defending, James Scobie QC said there was no suggestion Godhania distributed the material.
"The defendant stopped being a doctor in 2016 because he appreciated what breach of trust he was involved with," he said.
"He found it very difficult to live with himself."
Judge Richard Foster said the material Godhania collected of his victims had a "devastating effect on their personal lives".
He ordered Godhania to register as a sex offender for life and abide by the terms of a sexual harm prevention order indefinitely.
After the court hearing, Det Sgt Ian Russell said: "These were despicable actions by a man in a position of trust, and I'm really pleased he will now be facing time behind bars."
Related Internet Links
The BBC is not responsible for the content of external sites.