Mundesley cliff collapse blamed on excessive groundwater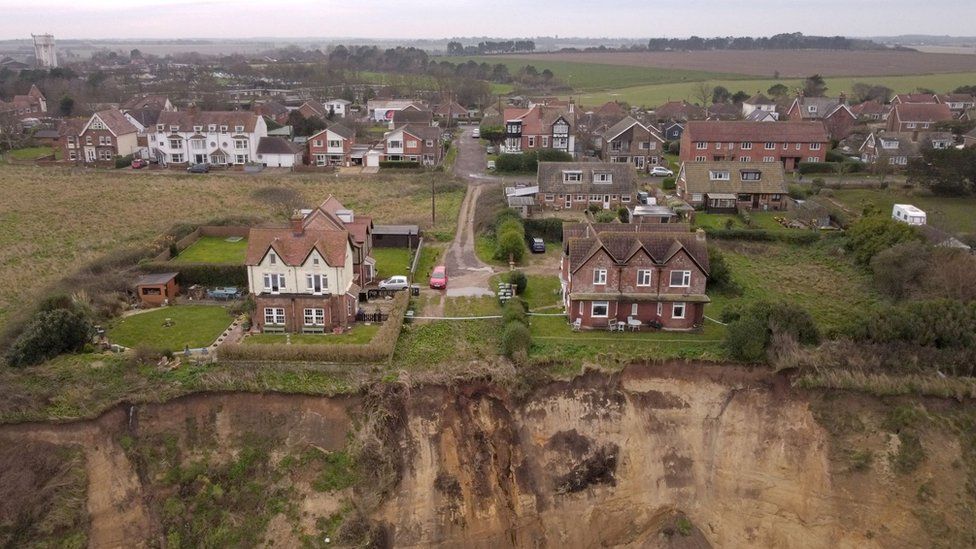 A cliff fall along the Norfolk coast was probably caused by excessive groundwater due to rainfall, according to council experts.
The landslip at Mundesley occurred overnight between 8 and 9 December.
Rob Goodliffe, North Norfolk District Council's (NNDC) coastal manager, said the high volume of groundwater within the cliffs could cause slippage.
Concern over a fractured leaking pipe sticking out from the cliff was also being investigated, Mr Goodliffe said.
"With our cliffs the less water that circulates into them the better," he said.
"Clearly if there was a water leak it would contribute to the existing groundwater, which may exacerbate the situation.
"But it's not clear whether the pipe fractured due to the cliff slippage or whether that may have been leaking before, and to be honest, I think that would be very difficult to ascertain."
The BBC is not responsible for the content of external sites. Facebook content may contain adverts.
Mr Goodliffe said examining other areas of the cliff revealed a lot of dampness within them, "so there's clearly quite a lot of groundwater within the cliffs at the moment".
He said the authority was working with Anglian Water, who had been on-site on Tuesday to investigate, as well as the owner of one of the properties close to the landslide.
Two people living in a house in multiple occupancy had been offered alternative accommodation, a council spokesman said, with one of the residents taking it up.
The offer was made as a precautionary measure while NNDC teams assessed the situation and determined if the building was safe, the council said.
Related Internet Links
The BBC is not responsible for the content of external sites.