Cromer Boxing Day dip 2021 postponed over Covid concerns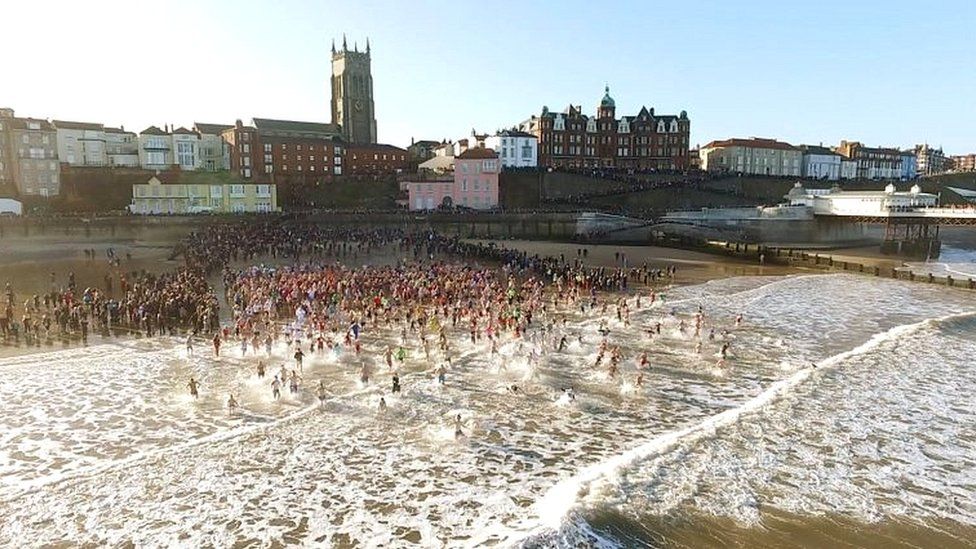 An annual Boxing Day dip, held for more than 30 years, has been cancelled for the second consecutive year due to the coronavirus pandemic.
The event in Cromer, organised by North Norfolk Beach Runners, has raised thousands of pounds for local good causes since it started in 1985.
"It is so sad that for the second year running the dip will not take place as planned," said organiser Clive Hedges.
With up to 500 "dippers", the event is one of the biggest in England.
"With Covid cases rising, and without the guarantee of our safety partners, we have decided that the right thing to do is postpone the event," said Mr Hedges.
"However we hope to return in the spring with a Not the Boxing Day Dip and continue our support for Sarcoma UK, who desperately need funds, and we owe it to our dear friend Natasha, a member of our running club, who is living with the disease.
"One thing we can guarantee - the water will still be cold!"
Sarcomas are uncommon cancers that can affect any part of the body, including the muscle, bone, tendons, blood vessels and fatty tissues.
About 5,300 people in the UK are diagnosed with them a year, according to the charity.
The fundraising dip started as "a bit of a dare" and has grown each year since with thousands of people lining the promenade and pier to cheer on the hardy swimmers.
Related Internet Links
The BBC is not responsible for the content of external sites.