Glasses missing from Northampton Alan Carr lion statue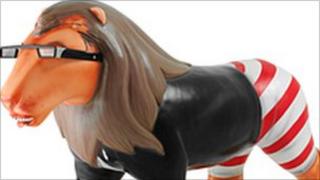 Glasses on a lion statue in Northampton made to look like comedian Alan Carr have disappeared.
There are 40 brightly-coloured lion statues around the streets of Northampton to encourage residents to feel a sense of pride.
Each 5ft (1.53m) lion is painted with a design by an artist or school.
One called Alion Carr depicts Alan Carr, who is from the area. On blogging site Twitter Alan Carr said: "They need two people to steal the teeth."
The event has been organised by Northampton Borough Council in partnership with arts and education company Wild in Art.
A spokeswoman for the council said they hoped the glasses had not been stolen but instead been knocked off by accident.
The council appealed for the return of the glasses which have been missing for several days but the artist who designed the lion said he would make a new pair as a replacement.
After the display the lions will be auctioned for charities, including the Born Free Foundation.
There are also 25 "mini" lion statues placed around the area.