Leisure centre in Northamptonshire shelved over funding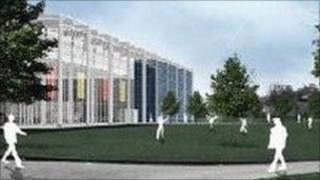 Work on a £13m leisure centre in Northamptonshire has been been postponed over concerns about cuts in public spending.
Manor Park in Rushden was given the go-ahead by East Northamptonshire Council in May.
It was designed to replace the Splash Leisure Pool and the Pemberton Centre, which will now remain open.
The council said it had halted all spending on the project until the economic situation has improved.
Opponents of the scheme had questioned the cost of the project.
'Long hard look'
The centre's design comprised a swimming pool, a sports hall, dance and exercise studios, a health and fitness suite and theatre.
Council leader Andy Mercer said: "The public sector finances are in much worse shape than we previously feared, with the true picture only emerging now the new government is in place.
"We are expecting funding cuts of 25% or even 40%.
"We were left with no choice but to take a long hard look again at whether we could afford it.
"It is very disappointing, but in the end the council reluctantly decided that we should stop now, before contracts are signed and the council is financially committed to the project."
Halting of the project will also mean that the council will no longer be funding the £100,000 worth of upgrades planned for rugby pitches at Manor Park.
The council said the decision meant it would not be spending £4.4m from its reserves or borrowing a further £6.7m.