Consultation on Towcester town centre plans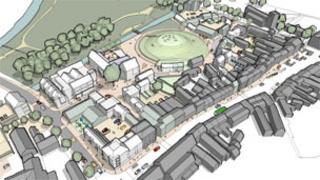 Residents are being consulted over multi-million pound proposals to regenerate the centre of a town in Northamptonshire.
South Northamptonshire District Council has put forward plans to redevelop Towcester with a new community library and improved leisure facilities.
The planning body, the West Northants Development Corporation (WNDC), is consulting local people on the plans.
Anyone who wants to give their views has until 6 August.
The redevelopment in the Moat Lane area will also include a new hotel, restaurant, cafes and bars, improved car parking, and additional shops and offices.
The WNDC will consider the plans in September.
Details of the outline planning application can be viewed at WNDC's offices in Northampton or through its website.