Damages for Northampton boy who lost eye after delay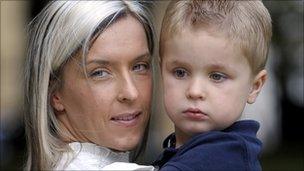 A three-year-old boy whose right eye was removed after a delay in his cancer diagnosis has received a "substantial" damages settlement.
The family of Harvey Dellar took legal action against Northampton General Hospital after an administration error led to a two-month diagnosis delay.
An undisclosed five-figure settlement has been approved by a judge at Birmingham County Court.
The hospital said it was pleased the settlement had been agreed.
The damages will be put into a trust to meet the future needs of Harvey, who lives in Northampton.
In a statement issued after the brief hearing, Harvey's mother, Caroline Haywood, said she believed her son might not have lost his eye if he had been diagnosed sooner.
"Although the cancer would probably have meant his sight would have been affected, they could have saved the eye and avoided the need for an artificial eye in the future," she said.
Harvey was 12 months old when his parents noticed in February 2008 that his right eye was turning inwards.
They took the boy to an optician, who immediately referred him to the hospital.
But a "basic administration error" meant that by the time Harvey was offered an appointment, his cancer had spread so far that surgeons had no choice but to remove the eye.
In a statement, Northampton General Hospital NHS Trust said: "The trust wishes Harvey and his family well for the future."
Related Internet Links
The BBC is not responsible for the content of external sites.