Stowe School porter denies trying to poison pupils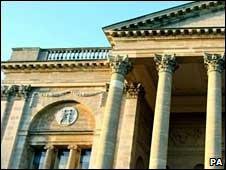 A kitchen porter at a public school in Buckinghamshire has denied trying to poison pupils and staff.
Maxwell Cook, 57, appeared at Aylesbury Crown Court charged with attempting to administer poison with intent to injure, aggrieve or annoy.
The porter at Stowe School was arrested in March after carrot and coriander soup for students and staff was found to be laced with a cleaning product.
The case was adjourned to 8 November for a hearing to set a trial date.
Police said the stain remover was added to soup at the school on 11 March and was noticed during routine tasting so no-one was hurt.
Mr Cook, from Syresham, Brackley, Northamptonshire, denies the charge.
The porter had worked at the school since January 2007 but has since been suspended from his job.
He was granted bail until the next hearing.
Past pupils at Stowe School include business tycoon Sir Richard Branson, journalist Sir Peregrine Worsthorne and jazz legend George Melly.
Related Internet Links
The BBC is not responsible for the content of external sites.