Council in Northamptonshire to auction stuffed animals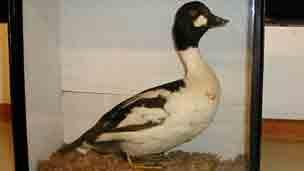 A museum service in Northamptonshire plans to auction dozens of stuffed animals kept in storage for decades.
Up to 170 stuffed animals could be looking for new homes as Northampton Borough Council considers their future.
In the 19th Century the museum's collection of stuffed animals grew as private collectors donated subjects.
A review in 2002 discovered more than 300 exhibits in store and decided to retain only 50. Now the remaining items could be auctioned off.
The retained collection is used for creating displays or for educational projects.
Other museums took 76 of the original 300 stuffed animals and the rest have been stored for the past eight years.
Paul Varnsverry, cabinet member for culture, said: "As with all museums, we only have space to display a small portion of our total collection of items.
"We have already identified which stuffed animals we display and those we wish to keep.
"Consideration will now be given to the future of the rest of the collection."
The future of the museum's stuffed animal collection is expected to be decided on Wednesday 1 September.
Related Internet Links
The BBC is not responsible for the content of external sites.