Corby has many firms which export, Experian study finds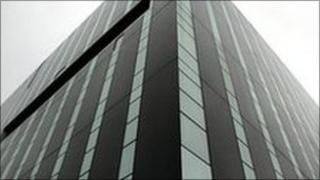 Corby has one of the highest number of firms in England which export, a study commissioned by the BBC found.
But it could face problems if there is another economic downturn as it has few employees working in resilient sectors, the Experian research suggests.
The researchers says jobs in farming, banking and insurance are more likely to survive economic shocks.
People in Corby have told the BBC they are optimistic for the future of the town's economy.
John Hill, the co-chairman of the Corby Business Group, said: "Corby is generally seen as being quite resilient with a huge cross-section of different businesses - including food businesses."
He said businesses he talked to in the town were generally optimistic.
"I don't recognise the pessimism [of some of the survey findings]," he said.
Dianne Martin, community diversity officer for the Corby Community Partnership, said the town had recently been transformed with a redeveloped town centre.
The development will include the Corby Cube, due to open later this year, which will house a library, theatre, council offices and restaurants.
Ms Martin said: "I feel that Corby is starting to have self-belief. The town feels quite buoyant.
"The centre has lots of high street names. People are gravitating towards the town centre."
Ms Martin said she was concerned about how government cuts may hit the town.
"I think they would have a huge impact. Nobody is safe. I think a lot of people employed by the county council work in Corby," she said.
The survey also found that South Northamptonshire is one of the best places [sixth best] in England for social cohesion - where residents were asked if neighbours look out for each other.
BBC Radio Northamptonshire will be debating the State of the Region on Friday at 0900 BST.