Northamptonshire Police 'will meet challenge of cuts'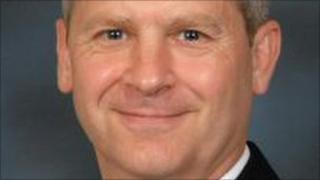 The new assistant chief constable for Northamptonshire Police says the force is well placed to cope with new cuts.
Andy Frost made the comments as Cambridgeshire Police's retiring Chief Constable warned of "Armageddon" for the service due to cuts.
Assistant Chief Constable Frost said the need for more savings by the police was going to be "big challenge". This year the force has made £2m of savings.
He said he felt the force had people in place to deal with any more cuts.
"In my whole policing career, we've never been in the position of having to save money," he told the BBC.
'Meeting challenge'
"We have always, year on year, had a growth in our resources, both money and people.
"So this is going to be a new challenge for us all, but I'm confident that with the people we've got and the ideas, we will meet that challenge."
On Thursday, Cambridgeshire's Chief Constable Julie Spence warned the police service may be forced to deal only with 999 calls.
Mrs Spence spoke out over government plans to cut its budget by up to 40%.
"It would be Armageddon. The police service that you see today would not be the police service that you would see in the future," Mrs Spence said.