Scheme to redevelop Towcester backed backed by planners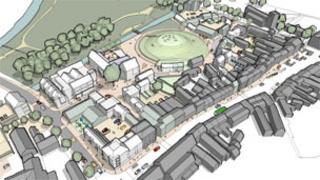 Multi-million pound plans to regenerate the centre of Towcester with new shops, a hotel and a library have been approved by planners.
The Moat Lane plan is being put forward by South Northamptonshire Council with the support of the county council.
It has now been given the go-ahead by the West Northamptonshire Development Corporation (WNDC) after consultation.
The scheme will also include improved car parking and new offices.
The WNDC said the scheme would breathe new life into an historic site along with renovating a collection of disused buildings in the town centre.
'Exciting development'
An earlier phase of the scheme has already been completed, following the renovation of Bury Mount, a medieval fortification, and the restoration of the Watermeadows, former private land now opened as a new public park.
John Townsend, cabinet member for the environment at South Northamptonshire Council, said: "This is an exciting development and a positive step towards a brighter future for the town, which will be greatly enhanced by the regeneration of Moat Lane."
Adrian Arnold, WNDC's director of planning services, said: "Moat Lane is a truly unique development that is bringing the rich history of Towcester to life.
"It will generate over £40m in private sector investment, bringing new jobs for local people, while providing first class community facilities in the heart of the town."