Northamptonshire to use 'coated salt' in cold snap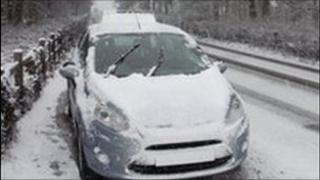 A county council that saw roads hit severely by snow and ice last winter is making early preparations for another prolonged cold snap.
Last winter 22,000 tonnes of salt were applied to roads in Northamptonshire to keep traffic moving.
This year the county council has invested in a new type of road treatment, salt coated with a substance derived from sugar.
This sticks better to surfaces and causes less damage, the council said.
Management of stock levels is to be improved and a 50/50 salt-sand mix is to be used in snowy conditions.
Heather Smith, county council cabinet member for transport and highways, said: "We don't know what weather we'll get in the coming months but after the past two years we do know that we need to be prepared for the worst.
"Keeping the road network open is a huge challenge and it requires a great amount of organisation so that we can work around the clock to keep the network running.
"We did a good job keeping roads open last winter and we did well keeping our salt stocks high so we didn't run out like some authorities.
"However, we're always learning how to improve and it's vital we build on the good practice which has already been established."