World Conker Championships win 'due to maths formula'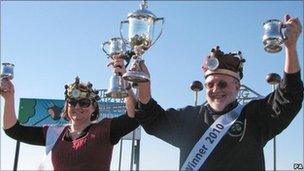 The winner of a conker championships which had been threatened by a shortage of "good-sized" nuts has put his victory down to a mathematical formula.
Ray Kellock, 64, won the men's title at the World Conker Championships in Ashton, near Oundle, Northamptonshire, by using a combination of kinetic and potential energy, he said.
Organisers had to appeal for help finding big conkers before the event.
The shortage was blamed on disease blighting the trees on which they grow.
Mr Kellock's victory was his second at the championships, following his win in the 2008 event.
He said the win was down to him perfecting his "kinetic energy theory".
"It's design this time, it was a chance last time but it was design this time," he said.
"It's all about potential energy, according to my son anyway, who's a Bachelor of Engineering. He says that it's all about kinetic energy and potential energy.
"It's all about how you hit it and where you hit it."
Wendy Bradford, 45, from Brixworth in Northamptonshire, won the Ladies title.
She said: "We just enjoy competing, it's a really nice day and somehow they always book the really nice weather.
"I'll probably be back next year but I think this is the pinnacle of my achievements."
Around 350 adults and 700 juniors took part in the competition.
The call for help in finding big conkers was issued after local collections initially yielded only small ones.
John Hadman, secretary at Ashton Conker Club, said: "When we started to collect.. the only ones were small and few-and-far between.
"And our usual trees, the ones we rely on, just weren't producing them.
"We started looking further afield and sent out an SOS and we've got responses from all over the country.
"But we didn't need to take them up in the end because with the recent wind and rain we got ones coming down from trees which had not produced good ones for years."
Unlike in the school playground version of the game, the pastime's 11 rules are strictly observed.
These include a ban on reusing conkers from earlier games and disqualification of any player who causes a knotting of the laces three times.
Related Internet Links
The BBC is not responsible for the content of external sites.