Families of three soldiers receive Elizabeth Cross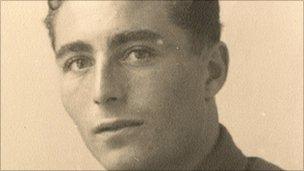 The families of three soldiers who died on active service have been awarded the Elizabeth Cross in the first ceremony of its kind in Northamptonshire.
The daughter of Trooper Cyril Adams of the Queens Royal Hussars and the mother of Lance Corporal Matthew Hughes, Rifles, will receive the awards.
They will be joined by the son of Warrant Officer John Frederick Rust from the Royal Engineers.
The medal was first awarded in 2009 after the Queen approved the honour.
It is given to relatives of members of the armed forces who have been killed in action since the end of World War II or as a result of a terrorist attack.
Warrant Officer John Rust enlisted in the Army in June 1937, joining the Royal Engineers Junior Leaders programme at Chepstow.
In 1950, he moved to Germany where he was to become a member of the British Army of the Rhine.
However, with increasing civil unrest in Cyprus, he was deployed to the island in 1955 as part of the Mediterranean Expeditionary Force.
On 28 May 1956, while still deployed on operations, he died as the result of a road traffic accident.
The award of the Elizabeth Cross and Memorial Scroll is to be made to his son, Lt Col (Retd) D J Rust.
L/Cpl Hughes enlisted in the Army in April 1996, and joined his regiment The 1st Battalion the Devonshire and Dorset Regiment in Germany.
He served in Northern Ireland, Saudi Arabia, Germany, Poland, Canada and Belize.
In late 2002, he was deployed to Ballykinler as part of the Resident Infantry Battalion.
On 7 December 2002 while returning from training in Scotland, he died in a road traffic accident.
The award of the Elizabeth Cross and Memorial Scroll is to made to his mother while a Memorial Scroll will be awarded to his stepfather.
Trooper Cyril Adams enlisted at Peterborough on 24 February 1939 and joined the Scottish Territorial Regiment, the Fife and Forfar Yeomanry, later to become part of the 1st Armoured Reconnaissance Brigade.
On 20 January 1940, the unit joined the British Expeditionary Force in France and was subsequently involved in the famous Retreat from Dunkirk.
At the outbreak of the Korean War he was mobilised to serve with the 8th King's Royal Irish Hussars, opposing the Chinese-backed North Koreans.
During this time, he and a number of others from his unit were captured and held as Prisoners of War.
On 2 July 1951, having spent five months in captivity he died from illness.
The award will be made to his daughter.
Related Internet Links
The BBC is not responsible for the content of external sites.