Auctioneers identify 19th Century 'Faberge' wine taster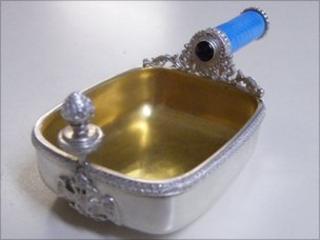 A wine taster believed to be made by Faberge could fetch thousands when it goes under the hammer at auction in Northamptonshire.
The 19th Century object, made of silver and decorated with precious jewels, was taken to an auction house in Towcester.
Its owner, who is from the county but wants to remain anonymous, did not realise the taster had much value.
But auctioneer Jonathan Humbert found the Faberge mark and has set the list price at £3,000.
'Couldn't believe it'
"Faberge is obviously the item everyone in the Antiques Roadshow is always looking for," said Mr Humbert.
"This is just a little item that's marked with the best possible maker's name."
He said the 4in-long (10cm) wine taster was made of silver and silver gilt, with an artichoke finial and decorated with amethysts and rubies.
It bears the Imperial Russian mark of a double-headed eagle, as well as what Mr Humbert believes to be the Faberge mark.
"I've seen Faberge items go for £15,000 to £18,000," he said.
"The lady who brought it in apparently had it for some time wrapped up.
"She didn't think it had any value and brought it in with several other items.
"I thought there was something special about it, then when I found the mark I couldn't believe it."