Tresham student sets up charity in memory of benefactor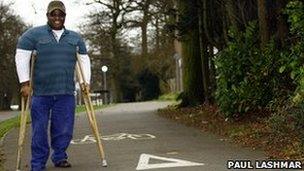 A disabled man from Sierra Leone has established a charity in memory of a secret benefactor who funded his UK studies.
Dr Abdulai Dumbuya, 38, moved to Britain aged 18 to study at Tresham College, Kettering, and Loughborough University.
After the death of a friend's mother, Dorothy Springer, Dr Dumbuya learnt she had paid for his education anonymously.
He has now established the Dorothy Springer Trust to help others like him.
Dr Dumbuya, known as Abs, said that when he learned of Mrs Springer's financial assistance he was "completely overcome."
"It makes the hair on the back of your head stand up," he said.
He said her kindness had inspired him to set up the charitable trust with Mrs Springer's daughter, Margaret.
Two years after Mrs Springer's death in 2003, he returned to his native Sierra Leone and saw the impact of the civil war.
He said: "There were a lot more disabled people on the streets begging. I thought that at any point in time that could have been me."
The trust gives training scholarships to disabled people in Sierra Leone.
"The sole purpose is to give disabled people the opportunity to gain skilled employment and allow them to contribute to society," he said.
Dr Dumbuya contracted polio when he was five. He was looked after in Freetown, Sierra Leone, by Leonard Cheshire Disability.
After arriving in the UK and starting to study for his A-levels at Tresham College, he assumed his education was being paid for by the Leonard Cheshire organisation.
Following Mrs Spinger's death, her daughter told him the truth.
Dr Dumbuya said: "She invested hugely in my education and all the while she kept it secret."
He estimates that it would have cost her up to £10,000 a year.
Dr Dumbuya, a doctor of engineering, has recently been working at the Transport Research Laboratory at Bracknell, Berkshire, where he has been developing traffic management systems.
Related Internet Links
The BBC is not responsible for the content of external sites.