Coronation Street home recreated by local firm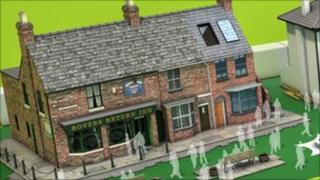 One of the best-known soap opera homes is being recreated by a company in Wellingborough.
Tingdene Homes has built a replica of Ken and Deirdre's home on Coronation Street.
Sophie Wyatt, the production designer, spent months researching and sourcing items.
She said: "It's been difficult to match items perfectly but things like the green tiles in the kitchen have really brought it all together."
The replica of Ken and Deirdre's house, the cobbled street and the Rovers Return pub will be on display at the Ideal Home Show later in the month.
Modern makeover
The company is also working on No. 3 Coronation Street but in a twist, it has been revamped to give a sense of what life could look like on the Street in the future.
The modern makeover has been designed by architect and TV personality George Clarke and includes a glass floor landing and open-plan living.
No. 1 Coronation Street has been home to fourteen characters since the soap started in 1960.
The original resident was Albert Tatlock but it has been Ken and Deirdre Barlow's on-and-off marital home since 1981.
Nick Burgess of Tingdene Homes said it would take 18 lorries to transport all of it to the Ideal Home Show at Earls Court.
The team will have just five days piece it together and to recreate the famous cobbled street.
Mr Burgess said that although he was not an original fan of the soap, he had recently taken quite an interest: "I do watch it at the moment because of our project and it's growing on me."