Royal & Derngate Theatre show on BBC Radio 3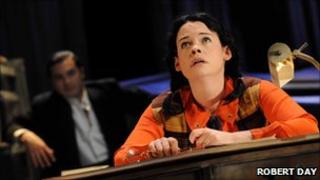 A Northamptonshire theatre production which has been adapted for radio is to be broadcast on BBC Radio 3.
The Royal & Derngate's production of Tennessee Williams' Spring Storm will air on Sunday 6 March at 2000 GMT.
The show will feature the original cast from the Northampton theatre and is to be directed by Artistic Director of the Royal & Derngate, Laurie Sansom.
The show marks the centenary of the birth of US playwright Tennessee Williams.
Laurie Sansom, who won the TMA Best Director Award for Spring Storm, said he was excited about the radio premier.
"We are delighted to bring Spring Storm to an even wider audience with this production on Radio 3.
"I'm obviously very fond of this play and it was a challenging and really rewarding experience directing it again, this time specifically for radio."