Northamptonshire woman makes bishop's cope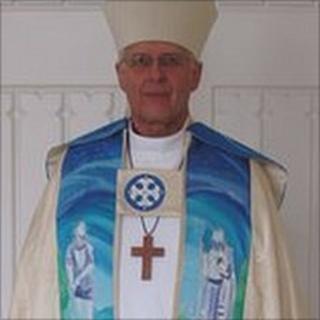 A Northamptonshire woman who makes religious clothing has just completed one of her biggest jobs - making the Bishop of Peterborough's cope.
Yvonne Bell, from Deanshanger, was invited to make the cope, a religious cloak for special occasions, after e-mailing him.
Mrs Bell got the call 24 hours later saying she came highly recommended.
"He phoned me and said 'I can't think of anyone else I'd prefer to make it' which was really thrilling," she said.
The Bishop-designate spent two hours with Mrs Bell in front of a sketchbook.
"He wanted the cope to have the theme of St Peter and Peterborough, rather than being about himself," said Mrs Bell.
One side of the cloak shows St Peter with his fishing net, which contains people as well as fish.
'Stand out'
The other side depicts St Peter with a lamb in his arms. He holds a shepherd's crook, and there is a little boy at his feet.
The rest of the cope is covered in fish and people. Mrs Bell said it is easier to make the cloak if the person who is going to wear it has a clear idea of what they want.
Mrs Bell produces all kinds of religious clothing, including colourful waistcoats for clergy who do not usually wear vestments.
"They want something that will stand out that's different from a normal shirt and tie, that says 'it's Sunday'," she said.