Northampton athletics track concerns raised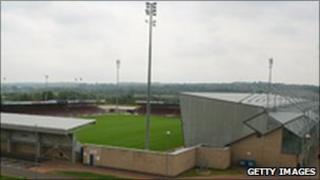 Concerns over the athletics track, next to Sixfields ground in Northampton and managed by the town's football club, are to go before councillors.
Northampton Borough Council leased the stadium and track to the football club in 2004 on condition it maintained the athletics facilities.
But a report to the council says the track is substandard and other facilities are in a poor condition.
The club said it was in talks about the site and improving facilities.
A report to the council said the scrutiny panel carried out two site visits to the athletics facilities at Sixfields and also found:
The pole vault not in useable condition
Long jump facility not covered
Mud on the running track.
The council says it hopes further meetings with the football club can see improvements to the facilities.
It is also looking at whether it can legally force the club to improve the facilities.
A meeting of the council's scrutiny committee on 28 March is due to discuss the issue.