Northampton man to display his artwork in Italy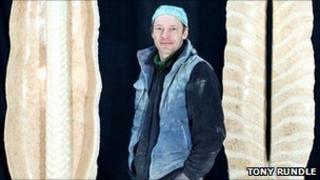 A Northampton man has been invited to Italy to take part in an international sculpture exhibition.
Nicolas Moreton is one of 25 sculptors from 12 countries taking part in the project.
"I feel really honoured to be a part of the exhibition," said Mr Moreton.
The show by Italian artist Volentina Fogher aims to display the depth and breath of traditionally made sculptures from all over the world.
Mr Moreton has received a bursary which allocates money to support small arts, design and media enterprises in Northamptonshire.
"Without the money from the bursary I would have had to decline the offer to showcase my work. I simply didn't have enough money to ship the pieces over," he said.