The Core at Corby Cube wins Arts Council funding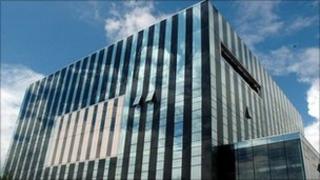 A new theatre in Northamptonshire has secured Arts Council funding for the next four years.
The Core at Corby Cube has been given £140,000 for 2012-13, rising to nearly £147,000 in 2014-15.
The theatre's creative director Chris Sudworth said it was an "exciting time" for the venue, which opened in the town in November.
The Core theatre previously relied on support from its audience and other local sources.
"We're really pleased that Arts Council England recognises the quality of the work we have done so far," said Mr Sudworth.
The Core is operated by an independent charitable trust, the Corby Cube Theatre Trust, which works in partnership with Northampton Theatres Trust.
Together they are working to create a nationally-recognised programme of in-house productions.
Chief executive of The Core Martin Sutherland said: "This is a strong step forward for the theatre."