Northampton parents concerned about sex-ed classes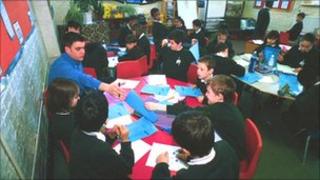 A group of parents from Northamptonshire is challenging the use of an "explicit" DVD in sex education classes for young children.
The video called Living and Growing, produced by Channel 4, explains what happens when a couple get aroused.
Group leader Julie Greenwood said: "Parents don't always know what sex education their children get so they can't make a choice."
Northamptonshire County Council claims the material is age appropriate.
The council said parents can also discuss material with their school and remove children from those classes if they want to.
Parents and education chiefs were due to meet at the Guildhall on Thursday evening.
The campaign is being supported by the Society for the Protection of Unborn Children.
In a statement the council said: "Northamptonshire County Council is confident that head teachers in this county use their professional expertise and judgement to ensure that Sex and Relationship Education programmes in their schools are suitably age appropriate."
John Kidney, head teacher at Alfred Street Junior School in Rushden, where they teach sex education to children aged 11, said: "It is important that children have an understanding of the real facts rather than something they may have picked up from somewhere else."