Northampton girl saves cousin, 3, from garden pond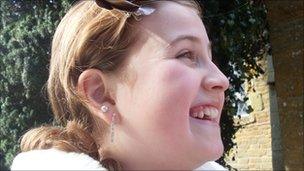 A Northamptonshire schoolgirl who has been taking life-saving skills lessons saved her three-year-old cousin from a garden pond.
Nine-year-old Jessica Bailey, from Duston, was playing hide and seek with her cousin Elizabeth Northcott.
Elizabeth accidentally ran into the garden pool and got into difficulties when Jessica rescued her.
"She just went over to her cousin and safely brought her out of the pond," said Claire Bailey, Jessica's mother.
Members of the family were attending a christening at the time.
"I'm so proud of Jessica as it came instinctively to her.
"She could have ran for help, leaving her cousin in the pond and by that time anything could have happened," said Ms Bailey.
Jessica has been taking Rookie Lifeguard lessons at The Duston School in Northampton.
"She's only been taking these lessons for a year now and it's amazing to see the amount of things she has learnt," said Ms Bailey.
Elizabeth is said to have been a little shaken after the event, but is now fine.
Related Internet Links
The BBC is not responsible for the content of external sites.