Thrapston's 140-year-old livestock market could move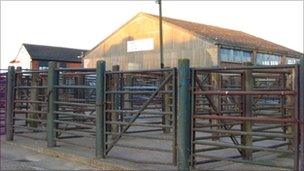 The only remaining livestock market in Northamptonshire is looking to move to new premises.
Bletsoe and Son, which is based in the centre of Thrapston, has been at its current site for 140 years.
The market could move to the outskirts of the town into a bigger area and nearer to the A14.
Auctioneer David Bletsoe, who runs the market, said: "We've outgrown the current site. It's outdated and not able to cope with modern farming."
Currently the centre of Thrapston is too small to accommodate all the traffic generated by trade and many farmers have to plan carefully before taking their livestock to market.
Andrew Brody, who owns a farm in the area, said: "I don't tend to park up and stay when I come to the market. It's just very cramped and not built for modern day vehicles."
Thrapston livestock market caters for farmers across the region with some coming from Melton Mowbray, Colchester and Thame.
"Thrapston is in a very good location, we've got some very good road networks with the A14, A605 and A45," said Mr Bletsoe.
The new plans now have to go to East Northamptonshire council.
Supermarket chain Sainsbury's has already expressed an interest in building on the old market site.