'Utrillo' painting up for auction in Northamptonshire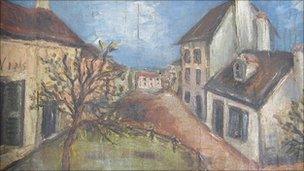 A cobweb-covered painting found behind an old bureau in a Northamptonshire farmhouse could sell for a six-figure sum, an auctioneer has said.
The picture of a French village is believed to be by Maurice Utrillo, an early 20th Century post-impressionist painter.
Last December an auction of his work in Paris raised over $7m (£4.3m).
Auctioneer Jonathan Humbert found the painting rolled up in a dusty cardboard tube during a house clearance.
"We were called to a ramshackle old farmhouse in the middle of rural Northamptonshire," he said.
"I spotted an old bureau and wedged behind it was a cardboard tube which rattled.
"It was covered in filth, dust and cobwebs. But this painting revealed itself and it was clearly a work of some repute."
Further investigation and speaking to the deceased owner's family has led the auctioneer to believe the painting is by Utrillo, although the signature has been scratched out, possibly to avoid problems importing it from France.
"In the bottom-left corner, you can see remnants of two upward strokes which may be the two 'll's in Utrillo," said Mr Humbert.
"We are attributing the painting to him. We have put it in with a conservative estimate of £2,000 to £3,000 but it is caveat emptor, buyer beware," he added.
Utrillo was cold-shouldered by the art world for many years but is now an admired post-impressionist painter, along with artists such as Monet and Renoir.
In December his painting Le Parevent raised more than $1m (£611,000) at auction.
The Northamptonshire find goes under the hammer at JP Humbert Auctioneers in Towcester on Tuesday.
Related Internet Links
The BBC is not responsible for the content of external sites.