Blind charity wants businesses to help save building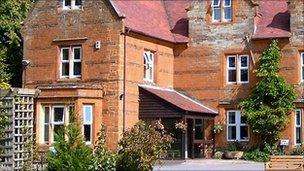 A charity for the blind is looking for local businesses to make use of its building, warning it may otherwise become derelict.
The Northamptonshire Association for the Blind (NAB) said its head office was too large and expensive to run.
The organisation is hoping to rent out most of the building at Wardington Court to help ease costs.
"People need our services but we can't afford to run our services and maintain the bills," said John Wood from NAB.
The charity was formed more than 100 years ago and currently helps some of the 20,000 blind and partially-sighted people in Northamptonshire.
"We have a resource room in the building where people come for specialist items and advice, but that is the only room we really use," said Mr Wood.
"But we're paying for bills covering the whole building.
"We want to put more money into improving our services, but we can't as we spend so much money maintaining the property."
The charity has been trying to sell the site to buy a smaller one but has not received any offers for the property.
"The work we do is valued and if we lose our premises, a great service will be lost," said Mr Wood.
Related Internet Links
The BBC is not responsible for the content of external sites.