Northampton park celebration for gospel choir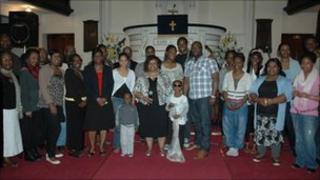 A gospel choir at the New Testament Church of God (NTCG) in Northampton has reformed after a four-year absence.
The group, which disbanded in 2007, has been invited to sing at the Pentecost in the Park at the town's Abington Park bandstand.
"It's been a long time coming, but now it's back and stronger than ever," said Pastor Allen from the church.
Janet Francis, one of the choir directors who began the ministry, said: "We are delighted to be asked to join other bands at this year's party in the park.
"It really is an honour."
The event is held on 12 June, the seventh Sunday after Easter, and celebrates Pentecost, the gift of the Holy Spirit.
More than 20 churches across Northamptonshire will be taking part.
"The choir is more than just singing, it is our offering to God. We are sharing his message with people," said Mrs Francis.
"Already more people have been enquiring to join the choir, so we are continuing to grow.
Pastor Allen said he was excited about the choir's future and that he hoped it would perform overseas.