Northampton Orbital cycle route officially opened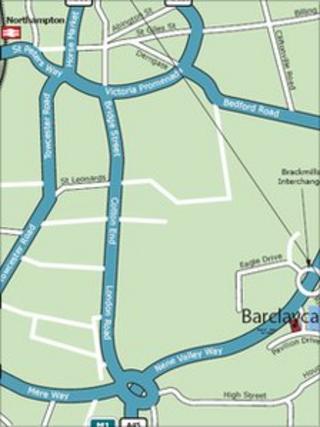 A new orbital cycle route around Northampton has officially opened.
Norbital, is an 18 mile (29km) route which passes through residential, industrial and retail areas of the town.
The route hopes to provide an alternative way for commuters to travel into the town and beat the traffic.
Philip Gray from the Cyclists Touring Club said: "It's encouraging to see that cyclists are now being recognised in Northampton."
The route leads cyclists around the town and also links to neighbouring cycle ways.
Mr Gray said he hoped to see more cycle routes in the county.
"Since the petrol price increase we have noticed the number of cyclists growing in Northampton, so this will be a great tool for the town," he said.
It was funded from the government's Community Infrastructure Fund, which built on the existing cycle infrastructure.
Heather Smith from the county council believes Norbital will be put to good use.
"Cycling is becoming increasingly popular, as well as environmental benefits, cycling is also a very cheap form of travel," said Ms Smith.