Major street lamp turn off plan for Northamptonshire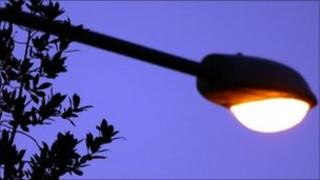 A scheme to turn off one in two street lamps in Northamptonshire in a bid to save £2m is due to start in May, the county council has announced.
The savings are part of a £73m package of cuts in the council's budget.
Council cabinet member for highways Heather Smith, said: "This isn't about turning off every other light.
"A number of factors are taken into consideration when choosing which lights will be turned off with peoples' safety an obvious priority."
'Saving money'
Ms Smith said: "Budget pressures have meant that the council has had to bring in these changes quickly.
"The idea of turning off street lights has been touted nationally for some time now and increasingly we're seeing authorities around the country turning off street lights as a way of saving money."
It is expected that the switch-off of street lights will be carried out in May and June.
The council said to mitigate the impact of turning off street lights the council will carry out faster repairs on lights, reducing the repair target from the current 28 days to, where possible, 10 days.
It is expected that the programme will be rolled out in Corby, south Northamptonshire, east Northamptonshire, Daventry and Wellingborough in May with work switching to Kettering and Northampton in June.
Examples of where lights could be kept on include areas where there are higher than average numbers of accidents during darkness and at complex junctions, said the council.