Northampton Carnival float numbers on the rise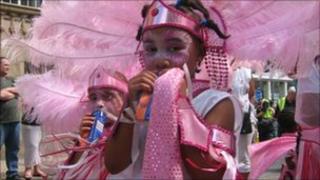 Organisers for one of Northampton's largest street festivals say they are excited that more people are coming forward to take part in the event.
More than 30 float applications have been received for the 7th annual Northampton Carnival on 11 June.
Myrle Roach, from The Northampton Carnival Arts Consortium, said: "It's great so many people want to get involved, it's going to be special."
This year the theme is Footsteps Through Life: A Colourful Journey.
"We wanted to keep the theme local with the town's shoe trade connection, but also keep it colourful at the same time," Ms Roach said.
"There are many ways you can interpret the theme. We have already had someone producing a float which features a caterpillar becoming a butterfly."
BBC Radio Northampton will be taking part in the parade from Delapre park and reporters will be broadcasting live from the event.
Workshops are currently taking place in the run up to the event on costume design.
"The carnival really is a great way to bring the community together as everyone gets a chance to take part and create something beautiful," said Ms Roach.