Daventry boys, 16, among UK's youngest directors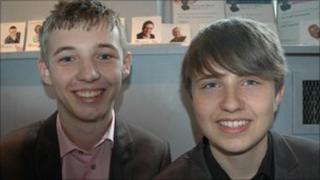 Two Northamptonshire teenagers are among the youngest company directors in the UK, said a spokesperson from Companies House.
Andrew Thomson and Izak Boyes-Jackson, both 16 and from Daventry, are co-directors of their own company called Enterprise Networking.
They offer services to young people looking to set up their own business.
"We know what young people need because we are young ourselves, so our services are vital," said Izak.
A spokesperson for Companies House said: "You have to be at least 16 years old to register a business.
"The two boys would have been the UK's youngest directors, however, someone who is two days younger than them beat them to it."
Their interest in business began after they completed a young enterprise course last year.
"We learnt a lot from that course and wanted to give back our knowledge to others," said Andrew.
After a year of preparation, both Andrew and Izak started to run their business and saw their client base grow.
"We have also advised adults on starting their own business - teaching them about being self-employed and the understanding that no matter how hard things may seem they should never give up," Andrew said.
Both Izak and Andrew are in full-time education and say they still have time to run their business and have a social life.
"We make sure we set a certain amount of time aside to have fun, but the business is fun too," said Izak.