No Olympic torch overnight stop for Northamptonshire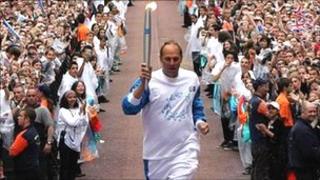 The organisation spearheading Olympic celebrations in Northamptonshire has revealed the torch will be coming through the county, even though it will not feature an overnight stop.
Chris Mallender, who chairs Northamptonshire's 2012 Olympic steering group, said he was excited about the benefits from the event.
The torch will be going through the county as part of the Games' run-up.
Mr Mallender said the torch relay will highlight support for the Games.
'Great opportunity'
"We are pleased it will be spending so much time in Northamptonshire, even though it is not an overnight stop," he said.
"It is a great opportunity for everyone to get involved."
He said the county was also planning a range of cultural events to tie in with the Olympics.
"We are going to put on a great show for the people of Northamptonshire," said Mr Mallender.
Organisers have announced the first 74 locations of night and island stops for the London 2012 Olympic torch relay route, which did not include Northamptonshire.
More details of the full route will be released at a later date.
'Shine a light'
The overnight stops near Northamptonshire are at Leicester (2 July), Peterborough (3 July), Cambridge (7 July), and Luton (8 July).
During its 70-day journey across the UK, the flame will be carried by 8,000 torch bearers as it makes its way to the opening ceremony of the games.
Lord Coe, chairman of the London Organising Committee of the Olympic and Paralympic Games, said: "The Olympic flame will shine a light right across every nation and region of the UK and showcase the very best of who we are and where we live."
The flame will enter the Olympic Stadium during the opening ceremony on Friday 27 July, when the last relay runner will transfer the flame from their torch to the Olympic cauldron.
It will then continue to burn until it is extinguished on the final day of the Games.