Pooja Caterers fined after rats found in warehouse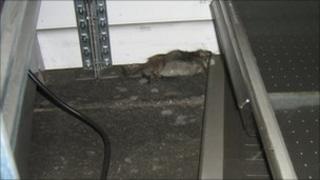 Food businesses have been warned they must comply with regulations after a catering firm was fined for storing food in a rat-infested warehouse.
The warning came after Pooja Caterers was fined £27,000 after inspectors discovered a warehouse full of rat droppings and gnawed food packaging.
Directors of the Wellingborough firm admitted three food hygiene offences before town magistrates on 19 May.
Kishor Modha and Raxa Modha were fined £27,000 and must pay council costs.
'Considerable failings'
Wellingborough Borough Council discovered the unregistered warehouse in July 2010.
A fire alerted the authority to the fact that the building existed.
When environmental health officers entered they found old and fresh rat faeces, gnawed food packaging, plus paw prints and tail marks in soot on food and shelves.
The warehouse was being used to store food and food equipment but was not registered with Wellingborough council as a food premises.
The council prosecuted the company and its two directors. Each admitted three identical food hygiene charges.
A spokesperson for Pooja Caterers said: "Following a fire on 29th July 2010 the unit was left open and easily accessible to pests.
'Work informally'
"Regrettably, pests were discovered at this time. The owners fully co-operated with the council and at no time were any contaminated catering supplies supplied to members of the public.
"Pooja Caterers deeply regret this incident and the regulatory breaches that it entailed after many years of compliance with all health and hygiene regulations."
Amanda Wilcox, the council's health and protection manager, said: "We work informally with businesses where possible to make sure high standards are maintained, but when considerable failings are found that significantly risk public health, we won't hesitate to take enforcement action.
"These offences were particularly serious and it should serve as a warning to all food businesses that they must comply with regulations."