MoD opens Yardley Chase site to wildlife enthusiasts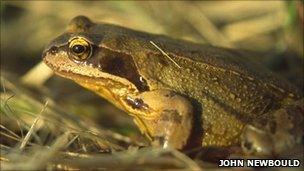 A Ministry of Defence (MoD) training site which is of special interest to wildlife enthusiasts is to open to the public for one day.
The area, classed as a Site of Special Scientific Interest (SSSI), is located at Yardley Chase near Denton, Northamptonshire.
It contains ancient woodland with crystal clear ponds and some of the largest grassland in Northamptonshire.
A guided tour will start at 1030 BST on Sunday 5 June.
'Popular with dragonflies'
Wildlife in the area includes rare species like the black hair-streak butterfly and dragonflies. There are also trees that date back to the English Civil War.
The tours, run by Natural England, started in 2008 and were so successful that the MoD decided to publicise them on a larger scale.
Lead SSSI advisor, Nicola Orchard said: "We were really impressed with the numbers of local people who came to see the diverse range of vegetation and wildlife on the site."
The land extends to approximately 164 hectares and was used as an ordinance storage depot but is now used by the army for training.
It has been in the possession of MoD since the 1930s. As a result, the land has been allowed to flourish naturally and has not been built on.
"The area is quite popular with dragonflies because of the number of ponds," said Ms Orchard
Tours are limited to about 50 people and visitors get to find out various features about the site.
"We tell people about the natural habitat, a bit about the military history of the site and some folklore," said Ms Orchard.
Related Internet Links
The BBC is not responsible for the content of external sites.