Northampton General Hospital opens £1.2m X-ray suite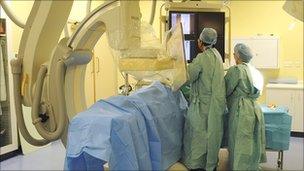 A new £1.2m suite to carry out operations under X-ray is being officially opened at Northampton General Hospital.
The upgraded radiology system will be used for procedures including the removal of tumours and blood clots.
The new equipment will produce "better quality images" and mean patients are exposed to less radiation, the hospital said.
Most procedures can be completed under local anaesthetic.
"The facilities will make the experience much more comfortable," said lead nurse Sinead Stancombe.
"It allows us to provide a wider range of treatments in the department."
A new area for recovery after surgery will allow patients to rest before going home in the evening.
On Monday the hospital outlined plans to cut hundreds of jobs as part of its multi-million pound savings programme, with up to 310 posts under threat.
The hospital is under pressure to try to save £30m by 2013.
Hospital spokesman Peter Kennell said it is "too early to say" whether staffing for the new services will be affected by the cuts.
Related Internet Links
The BBC is not responsible for the content of external sites.